NAPHL event in Texas moves to final day
November 18, 2019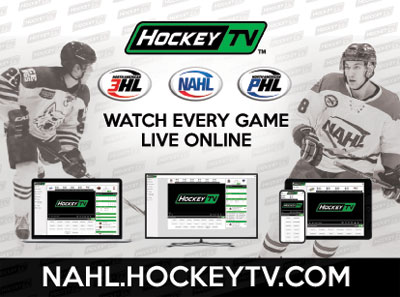 The NAPHL Texas Showcase continued with Day 3 on Sunday as all four age groups continued the action as some competitive games highlighted the day
On Monday, the NAPHL's 18U, 16U, and 15U Tier 1 High Performance and Elite Divisions will take to the ice in addition to Day 4 for the NAPHL's 14U Tier 1 Division.
All games this weekend will be played at one of three Children's Health StarCenter's in North Texas located in Frisco, McKinney, and Plano.
There will be no admission charge for the event in North Texas. All games will be broadcast live on
HockeyTV
Download the
NAHL App
to keep up to date with NAPHL score
s
(
iOS
-
Google Play
)
Sunday 18U Recaps
The 18U action ramped up on Sunday, with 13 matchups across North Dallas.
In the opening set of games, Carshield knocked off Esmark 4-3 in overtime thanks to Coby Weber's tying and winning efforts late in the game, Sioux Falls dumped Notre Dame 6-4 in a high-scoring tilt, Meijer edged Shattuck St. Mary's with a late winner for a 2-1 decision, Florida Alliance topped Portland 5-4 in overtime after the Winterhawks roared back from a 4-1 deficit, Thunder Bay slipped past Arizona 5-4, Sioux Falls toppled Everett 4-1 and a shutout from Keaton French and two late strikes from Marc Fletemeyer helped Colorado Springs to a 2-0 win over Ontario.
Later, Meijer came out on top of a tight battle against Carshield, winning 3-2 in overtime, Esmark shut down the Hounds in a 4-0 win and Portland outgunned Shattuck St. Mary's in a 2-1 shootout win.
In the late games, Colorado Springs won again, this time 3-1 over Thunder Bay, Everett edged out Arizona 3-2 and Ontario topped Florida Alliance 2-1 to end the night.
Sunday 16U Recaps
A lighter day on the slate of 16U games saw each team light the lamp at least once.
Gentry opened up the day's play with a 6-2 victory over Sioux Falls, followed by Carshield winning 6-4 against TRC Academy on the back of Eli Baumstark's hat-trick and two goals from Michael Kennedy.
Florida Alliance then opened up the throttle, potting 12 goals in a win over Esmark. Colorado Springs found a game-winner in the third to take a 2-1 decision over Madison, Meijer outlasted Everett 4-3 in overtime and Arizona capped off the contests with a 4-3 victory over West Coast.
Sunday 15U Recaps
Each of the eight 15U teams in attendance in Texas played twice on Sunday, with four teams going 2-0 on the day.
Carshield blitzed Colorado Springs 10-0 and topped Meijer 3-1 in their contests, Florida Alliance knocked off Thunder Bay 7-3 and Colorado Springs 9-0, Everett took down Esmark 3-1 and Thunder Bay 4-3 and Arizona dropped Meijer 4-2 before slipping past Esmark for a 2-1 OT win later on in the day.
Sunday 14U Recaps
Sixteen 14U tilts hit the ice on Sunday, as the Texas showcase carried on into day three.
Things got off to a hot start with Dallas Penguins managing to knock off Chicago Blues 3-2. From there, Chicago Hawks steamrolled Atlanta 7-0, West Dundee cruised past Romeoville 6-1, Highland Park held off Dallas Stars Elite 13U for a 3-1 win, Affton edged McKinney 3-2, Chicago Bruins potted four in the final frame for an 8-1 win over Vegas, Orland Park breezed by Arizona 6-2 and Colorado Springs struck for a 3-1 victory against Geneva.
Later on, Ontario needed a shootout to get past Chicago Jets 2-1, Northwest survived a tenacious comeback bid and a 66-save effort from Arizona netminder Rocco Ferrara to top the Bobcats 4-3, Chicago Bulldogs found a late winner in a 2-1 decision over Nashville, Dallas Stars Elite 14U easily handled Meijer 7-0, Littleton outlasted South Florida for a 2-1 shootout win, St. Peters shut down Texas for a 5-0 victory, Dallas Stars Elite 14U strolled to a 9-2 win over Colorado Springs and Arizona escaped with a 3-2 win over Meijer to close out the day.