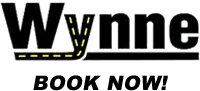 As a family run organization, Wynne take great pride in their vehicles, drivers, office staff, but most importantly, the safety record of our company. They were one of the first chartered bus companies to install seat belts on every vehicle. They are still one of only a handful of companies that have installed seat belts to protect their passengers on every vehicle that they operate. Discover a more comfortable way to travel. At Wynne, we know that on every trip we provide for our clients; we are carrying their most precious cargo. With a commitment to world-class service, we take pride in what we do, and we've been doing it exceptionally well for more than 22 years.
The North American Prospects Hockey League (NAPHL) is pleased to partner with the Avis Budget Group as their car rental partner. The Avis Budget Group, Inc. is a leading global provider of vehicle rental services, both through its Avis and Budget brands, which have more than 10,000 rental locations in approximately 175 countries around the world, and through its Zipcar brand, which is the world's leading car sharing network, with more than 900,000 members. Avis Budget Group operates most of its car rental offices in North America, Europe and Australia directly, and operates primarily through licensees in other parts of the world.
Best of all, because of the league-wide agreement with the Avis Budget Group, all teams, parents, scouts, staff and those attending league-sponsored events are entitled to special pricing and rates.
Simply click the corresponding link to book your rental today!