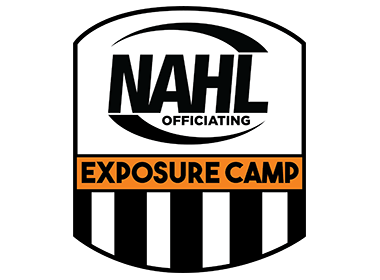 About the NAHL Officiating Exposure Camp
The NAHL Officiating Exposure Camp is designed to provide education, exposure, and experience to officiating prospects who are seeking a development opportunity and aspire to advance into higher levels of amateur hockey, junior hockey and beyond. The camp will feature classroom sessions, off-ice testing, on-ice testing, and the opportunity to gain experience working in both the Three- and Four- Official Systems.
EDUCATION - Classroom sessions will provide an overview of the Three- and Four-Official System positioning and mechanics and feature a presentation of the major differences between the USA Hockey Youth and USA Hockey Junior Rulebook. Officials will be provided an overview of the various opportunities in officiating that are available within the NAHL family of leagues and discuss the NAHL Officiating Ladder of Development.
EXPOSURE - Officials will receive feedback from experienced Officiating Coaches and will leave with an understanding of the fundamental and advanced techniques they will need to master so that they can continue to develop into successful game managers at the current levels they work in addition to the levels they aspire to advance to. Officials will be exposed to a variety of on-ice and off-ice tests that will provide them with individual baseline performance measurements they can use to pinpoint and navigate areas of improvement for themselves in the future.
EXPERIENCE - Held in conjunction with a NAHL Combine, games will feature highly skilled prospects from North America and Europe who are competing to advance their playing career to the junior hockey level. Games will be fast paced, skilled, and competitive! Officials will work in both the Three- and Four-Official Systems and will have the opportunity to officiate in front of representatives from USA Hockey's Officiating Development Program (ODP) and more.
2023 Exposure Camp Dates
St. Peters, MO
March 23 - 26, 2023
St. Peters Rec Plex
Columbus, OH
April 13 - 16, 2023
OhioHealth Chiller North
Questions? Please contact Kendall Hanley, NAHL Manager, Officiating.
Application
The application for 2023 Exposure Camps is closed.
Are you a CURRENT official and interested in officiating in the North American Hockey League? Complete our online NAHL Officiating Show of Interest form.
Eligibility
Space is limited. Applications will be reviewed by the NAHL Officiating Department and participants who are selected to attend will receive additional information on the camp registration and payment process
The Exposure Camp is open to USA Hockey certified officials who are 18 years of age or older who have at least one (1) year of experience

Applicants who are 18 years of age or older who have less than one (1) year of experience will be considered on a case-by-case basis
Applicants who are under 18 years of age will be considered on a case-by-case basis and must reside locally relative to Exposure Camp location (i.e. no accommodations needed)
Schedule
For travel arrangement purposes, participants should anticipate camp starting Thursday at 3 PM and ending on Sunday at 3 PM. Start and end times are subject to change. A complete schedule will be released to fully registered participants one week prior to the start of camp.
Travel, Accommodation & Meals
Travel to and from the Exposure Camp and between all venues (i.e. hotel, rink) throughout the course of the camp is the responsibility of the individual participant
Participants who are traveling in from out-of-town (non-local) will be provided accommodation by the NAHL via a NAHL partner hotel property (Room+Tax Covered ONLY). Additional details will be provided to selected participants in the registration process

A participant is considered from "out-of-town" (non-local) if they reside 50 or more miles away (one-way) from the Exposure Camp venue

The following meals will be provided:

Thursday: Dinner
Friday & Saturday: Lunch + Dinner

Breakfast is the responsibility of the participant
All other expenses will be the responsibility of the participant
Cost
If selected to participate in the NAHL Officiating Exposure Camp, a registration fee of $100.00 USD is due on or before February 10, 2023
If full payment is not received by the February 10, 2023 deadline, a participant's invitation to attend camp will be withdrawn and their spot will be offered to an official on the Wait List
NAHL Officiating Exposure Camp Refund Policy
The registration fee includes an administrative fee of $50.00 USD, which is non-refundable. Refunds will be provided for cancellations up to and including February 25, 2023. Refunds will not be provided for cancellations after February 25, 2023. Charges will appear as NAHL Officiating Exposure Camp on your credit card statement. Cancellation requests must be made in writing to Kendall Hanley, NAHL Manager, Officiating.