Dennis Vickers
Director, Player Personnel
Send E-Mail
Dennis Vickers joined the NAHL as the Director of Player Personnel on June 13, 2022 and will oversee all player personnel and scouting initiatives for the NAHL and NA3HL, in addition to being the Director of the NAPHL. After his playing career ended at Saint Mary's University in Minnesota, Vickers attended Miami (OH) University. At Miami University, Vickers served as a Graduate Assistant where he coached the ACHA team and worked closely with the team and staff of the NCAA Division I program. After going to back-to-back ACHA National Tournaments and completing his master's degree in Sport Behavior and Performance (Sport Psychology), he moved to Nashville to take over as Director of Hockey Operations for the Nashville Predators Youth Organization. Vickers is a USA Hockey Level IV coach and has coached every level from youth hockey to college. He has also worked a variety of USA Hockey National Select Camps and worked with USA Hockey's Youth Development staff.
Craig Barnett
Director, NCAA Compliance and Education
Send E-Mail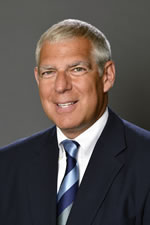 Craig Barnett provides NCAA Education and Compliance resources for the NAHL, NA3HL, NAPHL, and T1ER. Barnett's experience and relationships in the college hockey world provides a unique perspective to coaches and players in the NAHL family of leagues looking to gain opportunities at the next level.
Barnett played college hockey at Plattsburgh (NY) State University in which he was a member of the 1987 NCAA Championship team. He was also named to their all-decade team (1985-1994) and was the university's Student-Athlete of the year in 1989.
Barnett then played professionally in the New York Ranger organization for two years before entering the coaching ranks. Barnett started the hockey program at the University of Findlay (OH) in 1995 and took that program from club status to the NCAA I level as a charter member of the CHA (College Hockey America).
In 2002, Barnett became the Hockey Director and Assistant Athletic Director at Lake Forest Academy, a prestigious boarding school on the north shore of Chicago. Barnett then became the Director of Athletics at Becker College in Worcester, MA where he was instrumental in starting their NCAA III hockey, football and lacrosse programs. Two years later, Barnett landed the Director of Athletics position at Mercyhurst College in Erie, PA where he was responsible for 24 NCAA II varsity sports as well as their 2 NCAA I hockey programs.
In 2011, Barnett was named the Commissioner of the American Lacrosse Conference, a league who had won seven of the past nine NCAA I Championships before being absorbed by the Big Ten conference in 2014. This past year, Barnett became the Commissioner of the Midwestern Intercollegiate Volleyball Association, a NCAA I/II league whose conference member Loyola University has won the past 2 NCAA Championships. Craig and his wife Andrea have three children, Olivia, Braeden and Jace.
Tiffany Levesque
Manager, Administration
Send E-Mail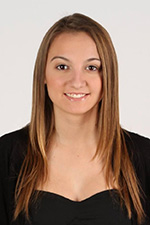 Tiffany Levesque joined the NAHL staff during the 2022-23 season and will serve as the Manager of Administration.
Prior to joining the NAHL, Tiffany spent four seasons with the Maine Nordiques (NAHL) in conjunction with their home rink, The Colisee, as Director of Operations, located in Lewiston, ME. Tiffany started as an intern for the Nords in their inaugural season (2019-2020), working in game day operations and production. She was hired full time in October 2020. Tiffany's role entailed, but not limited to, handling daily operations for the rink, game day operations for NAHL and Academy teams, broadcast production, representative for the Nords youth program, billet coordinator, scheduling, and marketing.
Tiffany graduated from the University of Hartford with a Bachelor of Science in Architecture.
Christian Larson
Coordinator, Digital Media
Send E-Mail
Christian Larson joins the NAHL team for the 2022-2023 season and will serve as the Coordinator of Digital Media.
Previously, Christian served the role as Gameday Content Intern for the NAHL, with duties that include writing stories of player advancement, filming live coverage of NAHL events, and posting on social media.
Prior to the NAHL, Christian worked for Wave Sports + Entertainment as a content manager, creating and posting digital media content to social media channels.
Originally from Fargo, North Dakota, he graduated from the University of Minnesota in Minneapolis, Minnesota with a Bachelor of Arts in Strategic Communications in the fall of 2021.
Cameron Moore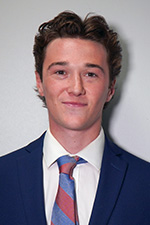 Cameron Moore was named the Kim Cannon Intern for the 2023-24 season on July 31, 2023. Moore is a recent graduate of Penn State University (Harrisburg) in Middletown, PA, with a bachelor's degree in marketing and management. While at PSU Harrisburg, he was a member of the ACHA Division II Ice Hockey team where he served as the Team Captain and Team President. He also has served as a management trainee intern for Enterprise Rent-a-Car during his time in college.
Kendall Hanley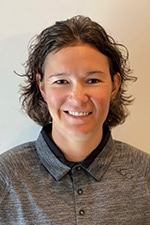 Kendall Hanley was named the full-time Manager of Officiating of the NAHL and Director of Officiating for the NAPHL in March, 2022.
Kendall's career began in 2007 during which she has officiated games at the local, district, national, professional, and international level. Her national experience spans NCAA DI and DIII (WCHA. MIAC, WIAC), Junior leagues (USHL, NAHL, NA3HL) and men's and women's professional hockey leagues (AHL, CWHL, PHF, PWHPA). On the international side, Hanley has officiated numerous tournaments around the world for the International Ice Hockey Federation (IIHF), including the 2019 U18 Women's World Championship in Slovakia (Bronze Medal Game), the 2021 Women's World Championship in Canada (Bronze Medal Game), and most recently the Women's Ice Hockey tournament at the 2022 Winter Olympic Games in Beijing, China where she was selected to work the Gold Medal Game.
Hanley has broken down numerous barriers for women in the officiating world. She was the first woman to work at the NAHL Robertson Cup Championship, in addition to two NAHL Top Prospects Tournaments (2021, 2019). She was one of the first four female officials to work at an NHL Prospect Tournament (2019, Traverse City, Michigan), and was additionally selected to work the 2021 NHL Prospect Tournament in Tampa Bay. In December, she became the first female to officiate a professional hockey game in Wisconsin, as part of the AHL's first class of ten female officials. She was the first woman to earn the 2021 Ben Allison Award, given annually to an official in the USA Hockey Officiating Developmental Program, and in 2023, was the recipient of the annual USA Hockey Jamie Huntly-Park Award.
A Raleigh, North Carolina native, Hanley found her passion for officiating after completing her four-year NCAA playing career for the Elmira College Soaring Eagles and Oswego State Lakers. She currently resides in Minnesota.
Ian McCambridge
Coordinator of Officials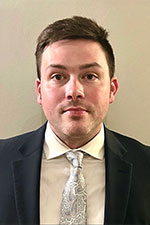 On July 17, 2023 the North American Hockey League hired Ian McCambridge as Coordinator of Officials. Ian started officiating twenty-one years ago. The Indiana native has served as an on-ice official within the North American Hockey League since 2007 as both a referee and a linesman. Since then he has worked three Robertson Cup Finals and two Top Prospects Tournaments.
Ian's officiating career doesn't just stop within the North American Hockey League. Since then he has worked  Division One Collegiate Hockey (Big Ten, CCHA), professional hockey (AHL, ECHL, SPHL), a world championship with the International Ice Hockey Federation, three NHL Rookie Tournaments, and the United States Hockey League where he was selected to work the 2015 Clark Cup Finals. 
Ian has a passion for officiating as he still runs local referee seminars, assigns youth hockey referees, and helps mentor the next generation of officials on the local level. 
NAHL Staff
The NAPHL League is supported, organized and operated by the full compliment of the experienced and professional NAHL Staff.