SHOW League makes season debut in New Hampshire
November 9, 2023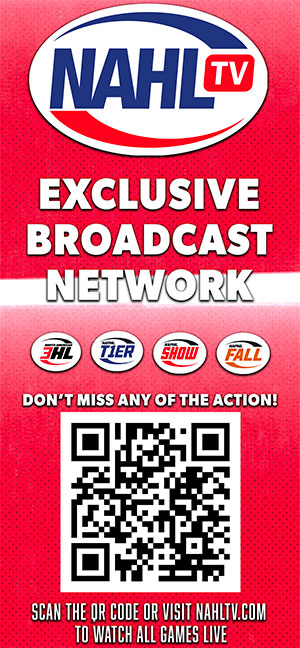 The NAPHL's SHOW League makes its 2023-24 season debut this weekend in New Hampshire at the NAPHL's fourth overall event of the season.
The SHOW is a collection of Tier I and Tier II organizations from all over North America that compete at the Tier I level at NAPHL events. It also includes teams from some of the strongest Tier II leagues in the United States. This event includes all 18U, 16U and 14U teams in the first match-ups of the season.
Since the inception of the SHOW League there have been an increased number of opportunities for players at the NAHL, NA3HL, and T1ER Leagues. The internal exposure elements inclusive of an exclusive tendering system and the strategically schedule events have proven to be very beneficial to the players competing in the SHOW League.
All games are broadcast live on NATV
2023-24 SHOW Events
November 10-13, 2023, Manchester, NH – This is the first event of the season which takes in place in New England. Located within 2 hours of 50+ NCAA hockey schools (17 NCAA Div. I and 33 NCAA Div. II/III)
December 15-18, 2023, Blaine MN – Partnered with the NA3HL Showcase and which draws over 100 college and junior scouts annually. NCAA Academic and Junior Recruiting seminars will be available for all players and parents to attend
January 12-15, 2024, Troy/Rochester, MI – This event is the SHOW League Championship and takes place during the NA3HL Tender distribution exclusive to the SHOW League. A tournament will be played to crown a champion for each age category and division.
Important SHOW League Details
Divisions, competition and playoff seeding will be determined by a series of data points utilized by the NAPHL Power Rankings
Scouts will be in attendance to these events in order to add additional scouting and exposure opportunities for the players
SHOW League players have access to the NAHL and NA3HL Tendering system that is exclusive only to the NAPHL
The November event is on the east coast within 2 hours of 17 NCAA DI and 33 NCAA DIII hockey schools
The December event is in conjunction with NA3HL Showcase which draws over 100 college and junior scouts
NCAA Academic and Junior Recruiting Seminars will take place in December in conjunction to the NA3HL Showcase
The January Championship event takes place during the NA3HL Tender Distribution exclusive to the SHOW League
The combination of event structure, location and partnerships create the best opportunity for player development, exposure and advancement
League website & Real-time statistics dedicated to promoting the SHOW