NAHL announces Ugly Christmas Sweatshirt Sale
November 1, 2023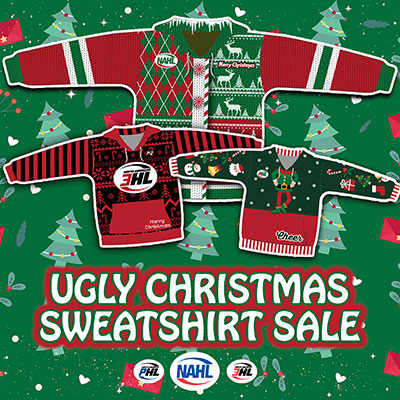 The North American Hockey League (NAHL) is pleased to announce the limited-time sale of three unique and one-of-a-kind ugly Christmas sweatshirts.
The sweatshirts, which were designed by the NAHL and produced by K1 Sportswear (official jersey supplier to the NAHL) are on sale now through Thursday, December 7th.
There are three different kinds of sweatshirts, representing each of the three leagues under the NAHL family, inclusive of the NAPHL and the NA3HL.
The NAHL Christmas sweatshirt is a must-have for NAHL fans. It features a traditional Christmas sweater look features Snowmen, Hockey Sticks, Christmas Trees, Reindeer, and Peppermint buttons.
The NAPHL sweatshirt is a must have for any NAPHL player, parent, or fan. The traditional red and green design features an elf. The Sleeves features Christmas icons including Santa, Snowmen, and Christmas Cheer.
The NA3HL sweatshirt is a traditional Christmas sweater design in league colors of Black and Red. Featuring Candy Canes, Christmas Trees, and Snowflakes.
These one-of-a-kind Christmas sweatshirts come in sizes Small through 3XL and cost $85, with an additional shipping fee of $9.95.