Reminder: Educational Seminars on Friday
September 15, 2023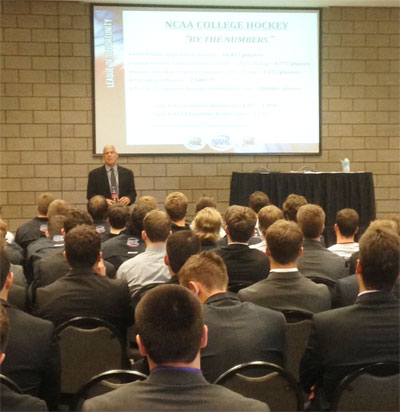 Reminder: In an effort to provide more opportunity to NAPHL T1ER teams in Blaine during the NAHL Showcase, the North American Hockey League and the office of the Director of Player Personnel is offering an education seminar to NAPHL T1ER teams.
Craig Barnett will be discussing "The Path" to NCAA Hockey. The seminar will include climbing USA Hockey Develop Ladder, the levels of USA Hockey Juniors, and NCAA opportunities within NCAA Division I, III, and ACHA hockey along with NCAA compliance.
The 45-minute presentations are scheduled for T1ER players, coaches, and parents will be on Friday, September 15th at 11:00am and 3:00pm and will be in the Grand Hall of the Welcome Center of the National Sports Center located in the building directly to the right of the Super Rink. Craig Barnett is the Director of NCAA Compliance Education for the NAHL and the Executive Director of the ACHA. He brings a wealth of knowledge as a former NCAA Division I Head Coach and Athletic Director.
The Education and Compliance seminar will cover several topics that are important for a hockey player and family with NCAA aspirations. The focus will be on differences between NCAA Division I, Division III and the ACHA, the breakdown of new NCAA I conference landscape, NCAA Initial Eligibility information including important new rules and how future players will be affected, the recruiting process and how to market yourself.
There will be time at the end of each session for a Q&A. We believe the seminars are extremely valuable and hope that you encourage your players, parents and coaches attend.