POE's Benson to make WHL debut on Nov. 16
October 31, 2013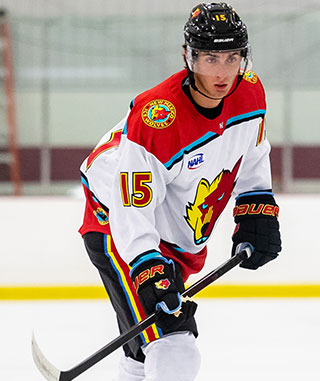 The Vancouver Giants of the major junior Western Hockey League (WHL) hope Tyler Benson, the first overall pick in the WHL's 2013 bantam draft, is the real deal and they have finally picked a game for the 15-year-old to make his Giants' debut — Nov. 16 at Pacific Coliseum against the Tri-City Americans.
Benson is eligible to play five games as a callup until his midget team is eliminated from its playoffs.
"I'm excited to be able to play my first Western Hockey League game as a Giant," said Benson. "It's going to be a good experience for me, and it's exciting to know when I'm going to play so I can prepare for it."
The 15-year old forward is currently in Kelowna, BC playing for the Pursuit of Excellence Hockey Academy 18U team. The POE 18U Prep competes in both the North American Prospects Hockey League (NAPHL) and the Canadian Sport School Hockey League (CSSHL). Benson leads his team in scoring in the NAPHL with 15 points (6 goals, 9 assists) in 8 games played. He is tied for 3rd in NAPHL 18U scoring.
In the CSSHL, Benson has also played 8 games in which he has 19 points (9 goals, 10 assists).
"We are all excited to see him in his first Western Hockey League game," said Giants' majority owner Ron Toigo. "It's always exciting when these special players get into their first game. Last year, we got a peek of Alec Baer and Jakob Stukel debut as 15-year olds, and Benson should be just as exciting as they were to watch."
Benson, 5-11 and 185 pounds, had 146 points (57 goals, 89 assists) in 33 bantam games last season with Edmonton's South Side Athletic Club Lions.
Benson is scheduled to play in the next NAPHL event of the season, which is an 18U Showcase held in Romeoville, Illinois from November 8-10.