Day 3 of NAPHL games come to a close at NAHL Showcase
September 21, 2013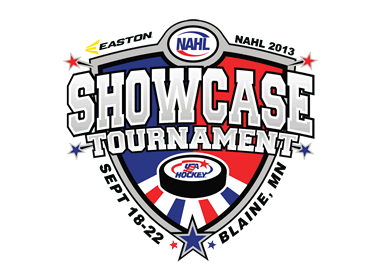 The NAPHL wrapped-up its third day of competition during the first event of the season at the NAHL Showcase in Blaine. Many of the 300+ scouts in attendance have remarked that they have been impressed with the level of play thus far displayed by the NAPHL players.
The final day of competition in Sunday and will complete the first event of the year. Each team will play one game on Sunday. The second event of the season is a split event in San Jose, California from October 18-21.
Watch all the games on Sunday live on FASTHockey
Follow the live scores during the final day here
18U Division
After three days, just three teams remain with perfect 4-0-0 records to date… the Omaha AAA Hockey Club, the Lansing Capitals and the Anaheim Jr. Ducks. The Pikes Peak Miners are right in the mix with a 3-0-1 record. The Texas Tornado, West Michigan Hounds and Pursuit of Excellence are all tied with 3-1-0 records.
17-year-old Omaha forward Nathan Medeiros leads all scorers with 10 points in four games. Lansing's Ronald Hein and Omaha's Tycho Falk are tied with eight points. Four players are tied with seven points including Pikes Peak defenseman David Dziezawiec and forwards Tyler Benson of Pursuit of Excellence and Ryan Cagnoni of Omaha all have seven points a piece.
Omaha is leading the way in goal as well as netminder Justin Ketola hasn't allowed a goal in 133 minutes of play. Pursuit's Ryan Bontorin and California's Joe Licata are right behind Ketola, each with a 1.00 goals against average.
Sunday's marquee match-up will be 4-0 Pikes Peak vs. 3-1 Texas.
16U Division
Like the 18U Division, the 16U Division has four unbeaten teams remaining. They are the Lansing Capitals, Omaha AAA Hockey Club and the Pikes Peak Miners. The New Jersey Titans, San Jose Jr. Sharks and Texas Tornado are right behind the leaders with 3-1-0 records.
One of the storylines of the season thus far is Lansing. They have yet to yield a goal in four games and have outscored their opponents by a combined 23-0. Forwards Josh Kirsch and Adam Goodsir are tied for 2nd in league scoring, each with 9 points. Omaha's Tarek Baker leads all 16U scorers with 11 points in four games. New Jersey has a trio of players among the scoring leaders including forwards Matthew Kidney, Ryan Walker and defenseman Brad Becker.
Both Lansing Capitals goalies lead the way in the goaltending statistics. Both Max Quertermus and Colt Hanks have been perfect in two games each thus far. San Jose's Jacob Acton has also not allowed a goal in two games. Omaha's Cole Weaver has allowed just one goal in two games.
Sunday's marquee match-up has two 4-0 teams facing off as Lansing takes on Pikes Peak.