Face-Off! NAHL Showcase set to begin today
September 17, 2013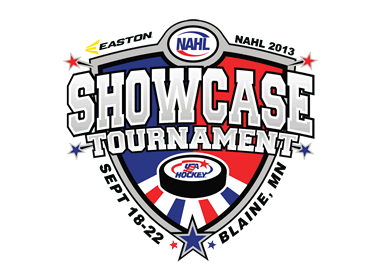 The NAHL Showcase Tournament, presented by Easton, begins on Wednesday, September 18th. This season marks the 11th season for the NAHL Showcase, which will be held from September 18-22, 2013 at the Schwan Super Rink in Blaine, Minnesota. All 24 NAHL teams will play four regular-season games at the Showcase, which is one of hockey's most prestigious and well-attended events of the entire season. Traditionally, the NAHL Showcase attracts close to 10,000 people in overall attendance, including more than 300 junior, NCAA and professional scouts.
All off the NAHL, NAPHL and HPHL games can be seen live through FASTHockey, the official broadcast provider of the NAHL. To view any game from the NAHL Showcase, visit www.fasthockey.com
"A lot of hard work has gone into preparing for the NAHL Showcase and we are confident that everyone is going to have a great experience," said NAHL Commissioner Mark Frankenfeld. "Each year we try and make the Showcase bigger and better and we think this year will be no exception to that. We wish the best of luck to all the players competing at the event this week."
Besides the 24 NAHL teams in attendance, there will also be 32 teams competing at the Tier I 18U Midget Major and 16U Midget Minor levels from the North American Prospects Hockey League (NAPHL). For the third straight season, eight teams from the Upper Midwest High School Elite League (UMHSEL) will be participating at the Showcase. In addition, the Tier I High Performance Hockey League (HPHL) is going to have all of their 18U Midget Major and 16U Midget Minor teams competing at the event (Compuware, Chicago Young Americans, Honeybaked, Little Caesars, Mission, Team Illinois). Finally, the event will feature four 16U At-Large teams from across the U.S.
Here are some helpful links to assist with the five days of hockey:
HPHL Schedule and Scores (18U, 16U)
Upper Midwest High School Elite League Schedule and Scores
For scouting purposes, the event is a can't-miss for every NCAA program and NHL team as they get their first look at some of the best and brightest hockey talent North America has to offer. For more details on the NAHL Showcase Tournament, including ticket, hotel, rental car, scouting and schedule information, visit NAHLShowcase.com.