Schedule released for the 11th annual NAHL Showcase
July 3, 2013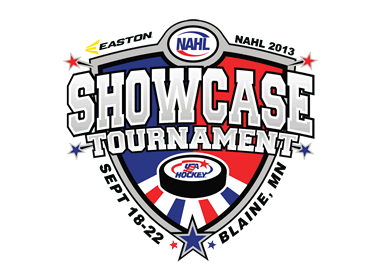 The North American Hockey League (NAHL) has announced the game schedule for the 11th annual NAHL Showcase Tournament, which will be held from September 18-22, 2013 at the Schwan Super Rink in Blaine, Minnesota. All 24 NAHL teams will play four regular-season games at the Showcase, which has evolved into one of hockey's most prominent and popular events of the entire season.
The event will also feature all 32 teams from the Tier I North American Prospects Hockey League (NAPHL), eight additional teams from the Upper Midwest High School Elite League (UMHSEL) and 12 teams from the Tier I High Performance Hockey League (HPHL). In addition, there will be four at large Midget Minor 16U Tier I teams who will compete in the HPHL 16U division as a part of the five-day, 80-team showcase event. A complete schedule for all teams at the Showcase is expected to be released in the very near future.
"Each year the NAHL Showcase keeps getting bigger and better as we continue to serve our hockey community in the highest regard by providing all the players with unmatched exposure to the hundreds of scouts who will be in attendance," said NAHL Commissioner Mark Frankenfeld. "We believe that the 2013 NAHL Showcase is shaping up to be the best yet and will continue to provide a unique opportunity for all the players that compete and to all the scouts that attend this year's event."
For scouting purposes, the event is a yearly gathering for every NCAA program and NHL team as they get their first look at some of the best and brightest hockey talent North America has to offer. The Schwan Super Rink is the largest ice arena of its kind in the world. The state-of-the-art facility, a $21 million project totaling over 300,000 square feet, features eight sheets of ice under one roof. With all its varied amenities and services, the Schwan Super Rink is absolutely unique in the world of ice sport facilities.
It will be the first event of the season for the NAPHL, which will also be played in conjunction with the Showcase. Now entering its fifth anniversary season, the NAPHL is made up of 32 teams: 16 Midget Major (18U) and 16 Midget Minor (16U) that compete at the Tier I youth level. For more information on the NAPHL, visit
www.naphl.com
.
This marks the third straight Showcase in which the NAHL has partnered with the Upper Midwest High School Elite League. At the Showcase, the Elite League will feature eight total teams. It also marks the second straight Showcase that the NAHL has partnered with the High Performance Hockey League. The partnerships between the NAHL and the Elite League and the HPHL further enhances the Showcase since all see numerous players commit to NCAA programs each season.
Traditionally, the NAHL Showcase Tournament attracts over 9,000 people in overall attendance, including more than 300 professional, college and junior scouts. For more information on the NAHL Showcase, visit
www.nahlshowcase.com
Wednesday, September 18th
10:00 AM, Fairbanks Ice Dogs vs. Springfield Jr. Blues
10:15 AM, Texas Tornado vs. Kenai River Brown Bears
10:30 AM, Minot Minotauros vs. Corpus Christi IceRays
1:15 PM, Rio Grande Valley Killer Bees vs. Coulee Region Chill
1:30 PM, Wenatchee Wild vs. Topeka RoadRunners
1:45 PM, Wichita Falls Wildcats vs. Minnesota Magicians
4:30 PM, Michigan Warriors vs. Brookings Blizzard
4:45 PM, Janesville Jets vs. Aberdeen Wings
5:00 PM, Port Huron Fighting Falcons vs. Austin Bruins
7:45 PM, Soo Eagles vs. Bismarck Bobcats
8:00 PM, Odessa Jackalopes vs. Minnesota Wilderness
8:15 PM, Amarillo Bulls vs. Johnstown Tomahawks
Thursday, September 19th
10:00 AM, Aberdeen Wings vs. Rio Grande Valley Killer Bees
10:15 AM, Minnesota Magicians vs. Michigan Warriors
10:30 AM, Brookings Blizzard vs. Wichita Falls Wildcats
1:15 PM, Minot Minotauros vs. Port Huron Fighting Falcons
1:30 PM, Fairbanks Ice Dogs vs. Soo Eagles
1:45 PM, Austin Bruins vs. Texas Tornado
4:30 PM, Johnstown Tomahawks vs. Topeka RoadRunners
4:45 PM, Springfield Jr. Blues vs. Odessa Jackalopes
5:00 PM, Corpus Christi IceRays vs. Coulee Region Chill
7:45 PM, Wenatchee Wild vs. Minnesota Wilderness
8:00 PM, Kenai River Brown Bears vs. Janesville Jets
8:15 PM, Bismarck Bobcats vs. Amarillo Bulls
Friday, September 20th
10:00 AM, Springfield Jr. Blues vs. Minot Minotauros
10:15 AM, Brookings Blizzard vs. Odessa Jackalopes
10:30 AM, Aberdeen Wings vs. Johnstown Tomahawks
1:15 PM, Topeka RoadRunners vs. Soo Eagles
1:30 PM, Amarillo Bulls vs. Kenai River Brown Bears
1:45 PM, Bismarck Bobcats vs. Janesville Jets
4:30 PM, Rio Grande Valley Killer Bees vs. Fairbanks Ice Dogs
4:45 PM, Port Huron Fighting Falcons vs. Texas Tornado
5:00 PM, Minnesota Wilderness vs. Corpus Christi IceRays
7:45 PM, Coulee Region Chill vs. Wichita Falls Wildcats
8:00 PM, Austin Bruins vs. Michigan Warriors
8:15 PM, Minnesota Magicians vs. Wenatchee Wild
Saturday, September 21st
9:00 AM, Corpus Christi IceRays vs. Port Huron Fighting Falcons
9:15 AM, Soo Eagles vs. Rio Grande Valley Killer Bees
9:30 AM, Johnstown Tomahawks vs. Bismarck Bobcats
12:15 PM, Minnesota Wilderness vs. Springfield Jr. Blues
12:30 PM, Michigan Warriors vs. Minot Minotauros
12:45 PM, Janesville Jets vs. Amarillo Bulls
3:30 PM, Topeka RoadRunners vs. Aberdeen Wings
3:45 PM, Odessa Jackalopes vs. Minnesota Magicians
4:00 PM, Wichita Falls Wildcats vs. Austin Bruins
6:45 PM, Texas Tornado vs. Fairbanks Ice Dogs
7:00 PM, Kenai River Brown Bears vs. Brookings Blizzard
7:15 PM, Coulee Region Chill vs. Wenatchee Wild
*All times central