Another banner season for NAPHL players signing in NAHL
June 6, 2013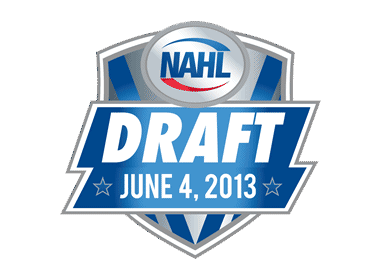 In continuing with the recent player advancement success stories, the North American Prospects Hockey League (NAPHL) is pleased to announce that three more of its players were selected in the 2013 North American Hockey League (NAHL) Entry Draft, which was conducted online on Tuesday, June 4th.
In addition, 46 NAPHL players signed tenders with NAHL teams during the 2012-13 season leading up to the draft. In total, 49 players who played in the NAPHL this past season officially have their rights protected if they play in the NAHL through signing a tender or being drafted.
The NAPHL had their first player taken in the 4th round by the Aberdeen Wings who selected Pikes Peak Miners 18U member Derek Famula, who tallied 15 points in 22 NAPHL regular season games. Famula was also selected to participate for Team California in the NAPHL Top Prospects event. Shortly after that, Ben Blake, a defenseman from the Wenatchee Wild 16U team was drafted 87th overall by the Kenai River Brown Bears.
The final NAPHL selection of the NAHL entry draft belonged to Tristan Ramage, who was selected by the Johnstown Tomahawks in the 7th round 148th overall. Ramage, a defenseman for the Pittsburgh Viper Stars 18U team, recently was selected to play in the NAPHL Top Prospects tournament for Team East, who won the event.
Entering its fifth season in 2013-14, the NAPHL has established itself as the premiere training ground for development and exposure. Over the course of the past two seasons 113 NAPHL players have been tendered or drafted into the NAHL. 152 players that had previously played in the NAPHL were on an NAHL roster in the 2012-13 season. Since the formation of the NAPHL four years ago, 210 NAPHL players had played in the NAHL and over three dozen NAPHL players have moved onto NCAA Division I programs.
Click here for the final NAPHL to NAHL 2012-13 tender list