NAPHL Top Prospects enters stretch run
May 13, 2013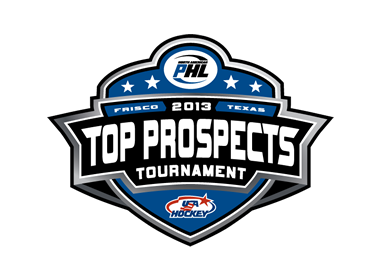 The North American Prospects Hockey League (NAPHL) Top Prospects Tournament has been in full swing the past two days with each of the four teams playing in three games.
It set up Monday's final day of the event where Team California and Team East have advanced to play in the Championship Game, while Team Central and Team Michigan will battle in the consolation game.
Watch all the games live on FASTHockey
Here is how each team has gotten to this point:
Team East: Team East secured the #1 spot through the round-robin with a 2-1 record. They posted wins against Team California and Team Michigan by identical 4-3 scores and then fell in their final game to Team Central, 7-2. New Jersey's Nikita Samoylov has a lot of the scouts in attendance talking after his good play in the three games and Pittsburgh's Trevor Recktenwald, who is a tender of the Johnstown Tomahawks, is tied for the team scoring lead with Samoylov through three games each with three points.
Team California: California posted a 3-1 win in the first game over Team Central. They fell to Team East in the second game by a 4-3 score, but bounced back for a 4-3 win over Team Michigan in the final round-robin game. San Jose Jr. Sharks forward Mick Nisbet is having a great tournament thus far with three goals and Pikes Peak forward Adam Shaner also leads the team with three points. Minnesota Magicians tender Mikko Kivinen of the California Titans has chimed in with a couple of points from the blueline as well.
Team Central: Team Central finished 3rd in the event thanks to a 5-2 win on Monday morning over Team Michigan. Kole Hudson of the Utah Regulators had three points in the win and four points overall to share team scoring honors with Alex Klaesner of the St. Louis Selects. Hunter Zandee of the Pursuit of Excellence club tied for the tournament goal lead with three goals. The Central also had the tournament's top goaltender in Jaxson Gosnell from the Phoenix Firebirds, who posted a 2.02 goals against average and a 94.6% save percentage.
Team Michigan: Team Michigan finished with a 1-2-1 record. 17-year-old Texas Tornado 18U forward Connor Colombe finished with three goals to lead the team during the event. Teammates Austin Murray (Odessa Jackalopes tender), Tommy Dierl (Corpus Christi IceRays tender) and Chris Beck (Port Huron Fighting Falcons tender) also had three points during the event respectively as did Lansing's Ian Wiljanen.