Hounds 18U forward Finkhouse signs NAHL tender
February 26, 2013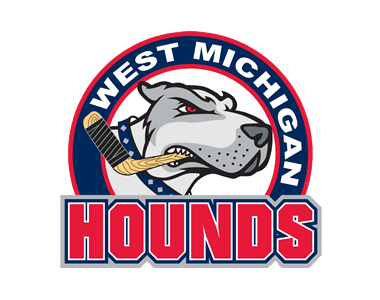 The West Michigan Hounds of the North American Prospects Hockey League (NAPHL) have announced that 18U forward Collin Finkhouse has signed an NAHL tender with the Johnstown Tomahawks. The Tomahawks compete in the North Division of the NAHL.
The 18-year-old forward from Ada, Michigan, is coming off a career season in which he led his 18U Hounds in scoring this season with 33 points (19 goals, 14 assists) in 22 NAPHL games. The Hounds finished with a 13-6-3 record this season and made the top 8 of the Gold Division 18U playoffs. West Michigan got all the way to the 18U Semi-Finals where they fell to eventual Champion Indiana. Finkhouse had five points in four playoff games.
Finkhouse (6'0/152) finished 3rd in NAPHL 18U scoring with his 33 points. He also ranked 3rd in goals with 19. Earlier in the 2012-13 season, he was named as the 18U Pointstreak Peak Performer from the Blaine II Showcase event back in December. He recorded 10 points at the Blaine II event, which included seven points (4 goals and 3 assists) in one game in a 9-1 win over the Atlanta Fire. The seven points in one game was an NAPHL season-high in the 18U Division.
"Collin is the type of forward that excels when he is in one-on-one situations. He has a lot of craftiness to him and is a creator with the puck. He also sees the ice very well. He is our go-to guy and he has been very consistent," said Hounds 18U head coach Mark Lawrence. "I think the next step for Collin is being able to battle against anyone and become a more physical player because that is what it is going to take at the next level like juniors. But, he is a pure goal scorer and that will allow him to fit in very well at the next level because everyone needs a player that is able to put the puck in the net."
See the complete NAPHL to NAHL 2012-13 tender list here
A tender is a contract, of sorts, a player signs announcing his intentions to play for that particular NAHL team and that NAHL team only. Once a player signs a tender with an NAHL team, his playing rights belong to that team within the NAHL and he may not be recruited by any other NAHL team. Each team is granted ten (10) tenders, which include two (2) tenders exclusively used on players from the NAPHL - plus or minus any trades - which become active on Nov. 1. Tendered players are not eligible for the NAHL draft, which will be held on June 4, 2013.