Firebirds 18U wins Arizona State Championship
February 12, 2013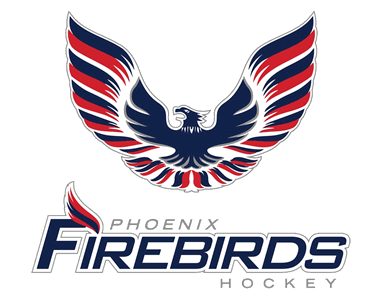 The Phoenix Firebirds NAPHL 18U AAA team beat the Tier 1 Elite Jr. Coyotes last night to complete the sweep and win of the Arizona State Title. This has completed a three Division sweep of the Tier 1 18U, 16U and 14U State Titles by the DYHA Assocation all coming without losing a game.
Head Coach Todd Collins, Assistant Coaches Doug Maire and Bruce Ericsson have done a tremendous job putting this team together given they only had 7 returning players from last season.
The Phoenix Firebirds U18AAA team lead by Captain Hector Majul and Assistants Braden Cooper & Blake Waldersen began the sweep of the Jr. Coyotes Thursday night at the IceDen.
Game 1 scoring was opened up by the Firebirds who maintained the lead or tied throughout regulation which ended 3 to 3. The first overtime period finished with no added score which pushed the fate of the game to the shootout. Jr. Coyotes took the first shot in the shootout and scored. The Firebirds first shooter Majul, scored which tied the game. It wasn't until the Firebirds 4th shooter Waldersen, who buried the game winning goal. Gosnell was solid in the pipes to help earn the win for the Firebirds. Majul, Dungey and Otts contributed goals during the game to get to the shootout. Along with 2 assists by Nachbaur.
Game 2 was Saturday afternoon at the Firebirds home rink. The Jr. Coyotes scored first, early in the first period. Before the first period ended, the Firebirds tied it up with a goal by Majul. From that point, it was all Firebirds. Waldersen scored in the 2nd to give the Firebirds the lead that they never gave up. This was followed by another goal by Majul and 2 goals by Nachbaur. Assists on the goals were recorded by Dungey with 2 and Dote, Majul, Workman and Zavesky with 1. The Firebirds outshot the Jr. Coyotes 30 to 19. The final score ended at 5 to 3. Gosnell manned the nets for Game 2 and earned his 2nd win in the Championships.
All the Firebird players contributed to the wins this past weekend and season long. These players: Justin Arnitz, Jake Bayer, Zach Bryant, Braden Cooper, Brad Dote, Justin Dungey, Jim Ericsson, Jaxson Gosnell, Kyle Hermann, Colin Kenyon, Hector Majul, Daniel Nachbaur, Nick Novin, Tanner Otts, David Volkmann, Blake Waldersen, Sean Winikates, Tim Workman and Steven Zavesky. All these players played a vital role in the success of this team.