18U All-PHL 1st, 2nd, 3rd and Academic Teams announced
April 6, 2012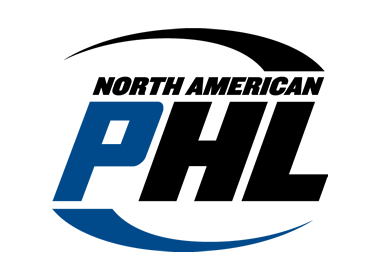 The North American Prospects Hockey League (PHL) has announced All-PHL First, Second and Third Teams, as well as its All-Academic Team in the 18U division for the 2011-12 season.
18U 1st-Team
Forward-Alec Butcher, Pikes Peak Miners
Forward-Heinz Koster, Pittsburgh Viper Stars
Forward-Sean Kalbak, California Titans
Defense-Mathew Armenti, New Jersey Jr. Titans
Defense-Jake Townsend, Pikes Peak Miners
Goalie-Arthur Brey, Orange County Hockey Club

18U 2nd-Team
Forward-Kirk Van Arkel, Pikes Peak Miners
Forward-Bob Tritschler, Pittsburgh Viper Stars
Forward-Josh Haverstrom, Pikes Peak Miners
Defense-James LaDouce, Lansing Capitals
Defense-Alex Baskakov, Pittsburgh Viper Stars
Goalie-Connor Webb, Lansing Capitals

18U 3rd-Team
Forward-Chad Staley, Wenatchee Wild
Forward-Hector Majul, Phoenix Firebirds
Forward-Jasen Fernsler, Lansing Capitals
Defense-Jake Pilewicz, Pittsburgh Viper Stars
Defense-Robert Haseman, Indiana Jr. Ice
Goalie-Jackson Germaine, California Titans
18U All-PHL Academic Team
To qualify for the All-PHL Academic Team, student-athletes must have a grade-point average of at least 3.5 for the 2011-12 school year and be nominated by their coaches. Members of the 2011-12 All-PHL 18U Academic Team are (alphabetical by team):
California Titans: Dan Fuller, Simon Johannson, Tyler Keturi, Chandler Madry. Carolina Jr. Hurricanes: Simon Lechter, Mike Merritt, Brett Murch. Indiana Jr. Ice: Griffin Strain, Ben Wheeler. Lansing Capitals: Kyle Haak, Brennan Sanford, Dillon Schuyler, A.J. Strzalkowski. New Jersey Jr. Titans: Chris Deatrick, Kevin Fitch, Casey Litwack. Omaha AAA Lancers: Brett Becker, Joe Kramer, Curtis Olson. Orange County Hockey Club: Arthur Brey, Lonnie Clary, Max Kilcults. Pikes Peak Miners: Eric Miller, Colin Staub, Justin Tutag, Richard Wigton. Pittsburgh Viper Stars: Clayton Bouchard, Jake Pilewicz, Doug Revak, Nick Schultz. Pursuit of Excellence: Josh Bowes, Phil Cameron. San Jose Jr. Sharks: Aaron Kahn, Dave Radke, Dylan Vander Esch. St. Louis Selects: Connor Court, Joey Maiocco, Parker Stevens. Texas Tornado: Garry Lassen.