Teal of Approval: San Jose's recipe for success
February 14, 2012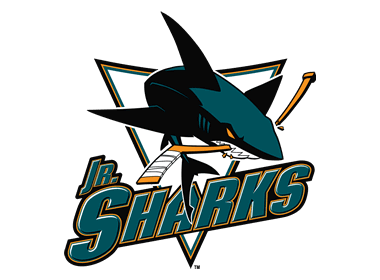 By Chris Bayee, California Rubber Magazine

Version 2.0 of the San Jose Jr. Sharks is far more than a software upgrade.

The club, formed in 2000, has undergone major changes to its infrastructure in the past year.

"Last summer, we really changed our model," said Tony Zasowski, the club's president and coach of its Midget AAA teams. "As a hockey department, we looked at what the players were looking for.

"There are two distinctive groups: the one that wants to try to get to the next level via junior or college hockey, and the group that loves hockey but doesn't have those same goals."

So the Jr. Sharks Hockey Council, aided by an advisory board, created two specific player tracks: birth year AAA, from Pee Wees to Midget 18U, and AA and A/B.

"We're the first club in the state to have AAA for every birth year from Pee Wee up," Zasowski said.

The Jr. Sharks, who ice 20 teams this season (seven AAA, five girls and eight AA-A-B), also flipped the script on tryouts.

"We didn't classify any of our A and B teams until after tryouts so they could be slotted at the appropriate level," Zasowski said. "Any time you can get like-minded players together, you can be more successful."

On a macro level, the club developed a new three-pronged mission: develop, compete and promote.

"We want to develop our own players, have appropriate competition situations for them and move them on to the next level," Zasowski said. "That's the biggest thing that separates us from other clubs.

"We only have one player in the club that's not from the San Jose area because his local team asked us to give him an opportunity. We're not actively recruiting. We tell our coaches, 'Just do the best with the kids at tryouts.'"

Jon Gustafson, general manager of Sharks Ice and chairman of the advisory board, said the process involved a lot of input from people inside and outside the hockey department.

"I couldn't be happier with the program," he said. "It was a long process, but the hockey board discussed (the potential changes), got parent input, and input from other organizations around the country.

"Under Tony's leadership, we felt like it was the time to do it. We'll focus on AAA and let other Bay Area clubs focus on AA. And we'll focus on in-house and build a good foundation of players and families."

That foundation is broad and deep. The Jr. Sharks have roughly 380 players, and the Sharks Ice in-house program has 500 more. There also is the burgeoning high school hockey program.

"(High school hockey) is the game-changer," Gustafson said. "You're always going to have the high-level kids, but it's that middle core group of kids (that's important to retain).

"The academic part of high school is important, but so is the athletic part. Once hockey gets in more high schools, it's going to raise the level that much more. It will give (the mid-level player) more opportunities."

Then factor in adult hockey - Sharks Ice has the largest adult hockey program in the United States, according to USA Hockey - and you have round-the-clock hockey in San Jose.

"We're really packed from 5:30 a.m. until 1:30 a.m., and we're busy whether there's a tournament here or not," said Robert Savoie, the complex's hockey director who has been part of the facility since it opened in 2002.

The contrast between then and now is stark.

"When we started, we had two sheets of ice; now we have four," Savoie said. "We had eight adult teams; now we have 155 just here in San Jose (Sharks Ice also operates a sheet in Fremont and two in Oakland).

"We started with 40 kids in-house; now it's about 500."

How much bigger the programs get depends on ice availability.

"We need more ice to grow the sport," Savoie said. "If we have more ice, we can have more free programs to introduce the sport. I had 110 girls come to (a recent) Try Hockey for Free (event). After that, we had a 12-week class. I wish we could do more of that."

That's the goal, according to Gustafson.

"We clearly have a priority of expanding our business - that's the No. 1 priority for me," he said.

"There's a need for ice everywhere, including here. We're walking through the process, and it's very complicated."

The Jr. Sharks boast a strong girls program, winning a national championship at 12U Tier II and reaching the 19U Tier I quarterfinals in 2011. The growth and successes of the girls program is a tribute to a dedicated team of coaches and parents, notably Mike Johansson, Rod Romanchuk and Sharon Myers, Zasowski said.

Meanwhile, the boys program has had an infusion of recently retired players with the additions of Curtis Brown, who played 123 of his 736 NHL games with the Sharks, and ex-collegians Mike Janda and Sean Castagna.

Brown joined the program as its player development manager.

"Right off the bat, he brings street cred with the kids," Gustafson said. "As long a career as he had in the NHL, Curtis far exceeds any accomplishments on the ice with what he brings off it. He communicates well."

Castagna, who coaches and teaches power-skating classes, played at SUNY-Buffalo, while Janda played in a Frozen Four with the Rochester Institute of Technology.

"It helps our players out to have a player who just graduated from a Division I school working with them," Zasowski said. "Curtis and Mike are doing skill sessions one night a week, and more and more parents are approaching them to see if their kids can participate."

Not only are the participation numbers there, but the promote part of the mission also is being achieved. That's been aided by the Bantam and Midget teams' membership in the North American Prospects Hockey League (PHL).

"It's a natural fit for us," Zasowski said. "Any time we get on a plane, we want to get good competition and maximize their exposure to scouts. Playing in the PHL has done that. Our teams have always been competitive."

This season, four members of the 18U AAA team have either played for or signed tenders with teams in the North American Hockey League (NAHL), the Tier II Junior A circuit that administers the PHL: defenseman Matt Audet (Janesville Jets) and forwards Theo Tydingco (New Mexico Mustangs), Johan Sjoden (St. Louis Bandits) and Ryan Webber (St. Louis Bandits).

And the 16U AAA team recently won the PHL's regular-season title.

Add it all up and the Jr. Sharks are accomplishing their missions.