NAHL names Cam Moore as next Kim Cannon intern
July 31, 2023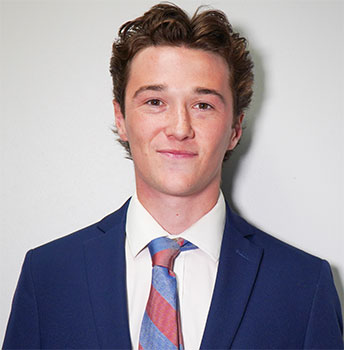 The North American Hockey League (NAHL) is pleased to announce that Cam Moore has been selected as the next recipient of the Kim Cannon Internship. He will begin his duties in the NAHL office on August 1st.
The Kim Cannon Internship was established back on June 2, 2021, by the NAHL, in cooperation with Tampa Bay Lightning Head Coach and former NAHL head coach Jon Cooper and is intended for a recent college graduate interested in pursuing a career in sports. Moore takes over for Tyler Giwerowski, who was the second Kim Cannon Intern and has stayed on working for the NAHL in a full-time position as Coordinator of Hockey Operations.
It is named for a former employee of an NAHL team named Kim Cannon. Back on September 9, 2020, Cannon was involved in an automobile accident which tragically took her life at the age of 35.
"I am so thankful to be given this opportunity and feel honored to be selected as the next Kim Cannon Intern. Kim's positive impact in the hockey world and the people she's touched along the way is very inspiring and something I hope to replicate in some capacity. I am looking forward to working for one of the best leagues in the world and I can't wait to get started," said Moore.
Moore is a recent graduate of Penn State University (Harrisburg) in Middletown, PA, with a bachelor's degree in marketing and management. While at PSU Harrisburg, he was a member of the ACHA Division II Ice Hockey team where he served as the Team Captain and Team President. He also has served as a management trainee intern for Enterprise Rent-a-Car during his time in college.
"The Kim Cannon Internship has been a wonderful springboard to some great young professionals into the sports business world. Tyler, our most recent intern, proved himself very quickly and has now stepped into a full-time role with the NAHL, " said NAHL Commissioner and President Mark Frankenfeld. "The finalists this year did not disappoint and made the choice very difficult. In the end, we felt Cam was the best fit for this year's internship and look forward having him a part of our NAHL family this season."
"I would like to congratulate Cam on being named the recipient of th 2023-24 Kim Cannon Internship. I am very proud to be associated with what has become a vital position to the continued growth of the NAHL. It is an annual reminder of who Kim Cannon was and the positive impact she had on all those she touched. I wish Cam good luck and look forward to keeping track of his progress throughout the season," said Jon Cooper, head coach of the Tampa Bay Lightning.