NAPHL alum Fowler named USHL Goalie of the Year
May 5, 2023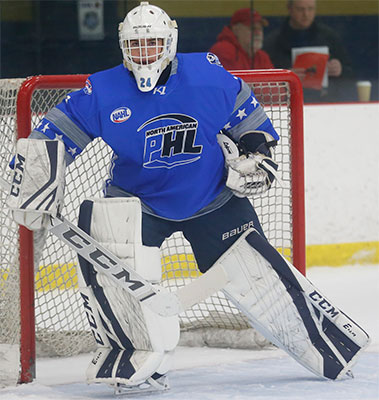 The United States Hockey League (USHL) and Youngstown Phantoms announced that NAPHL alum Jacob Fowler has been named Goaltender of the Year for the 2022-23 season.

A Boston College commit, Fowler finished the 2022-23 campaign with a 27-9-3-1 record, 2.28 goals against average and .921 save percentage. He led all USHL goaltenders in wins, goals against average and save percentage. He tied for the league-lead with five shutouts and his 1,029 saves ranked fifth. Fowler had a season-high 43 saves in a 1-0 shutout at Muskegon Jan. 14.
A six-time USHL Goaltender of the Week over the course of the season, the Melbourne, Fla., native helped lead the Phantoms to a second-place finish in the USHL Eastern Conference regular-season standings and a bye in the first round of the 2023 Clark Cup playoffs.

Fowler is the first Youngstown Phantom to be named the recipient of the USHL Goaltender of the Year award.
Prior to playing in the USHL, Fowler spent the 2019-20 season in the NAPHL with the Florida Alliance 16U team. He has a 7-0 record during the regular season with a 1.73 goals against average and a .932 save percentage.
He was named to the All-NAPHL 2nd Team and also played in the 2019-20 NAPHL 16U All-Star Game.