T1ER League announces 2023-24 Showcases, Exposure Events
May 4, 2023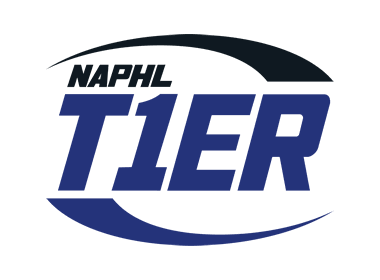 The North American Prospects Hockey League (NAPHL) has announced the T1ER League Showcases and Exposure Events for the 2023-24 season.
Founded in 2009 and heading into its 15th season in 2023-24, the NAPHL is the premier training ground for development, exposure, and opportunity. The success of teams on the national stage, as well as the success of NAPHL players at the next levels of hockey, is further proof that the NAPHL is redefining exposure and has become the marquee place to play for elite level players, ages 13-18.
The T1ER League is comprised of USA Hockey National Bound registered teams that compete in a full season at highest level for USA Hockey, which includes strategically located and scheduled showcases during the 2023-24 season. The T1ER Leagues primary mission is to provide development and exposure opportunities for players as they advance on the path to one day play high level junior and college hockey. Historically, the majority of Tier I players recruited by NAHL teams come from the T1ER League, which includes 55 players tendered in the NAHL so far for the 2023-24 season. Since 2020, no other youth league has advanced more players to the NAHL than the T1ER League.
For the 2023-24 season, T1ER teams will compete in a combination of league-wide and regional conference exposure events. The league-wide showcases will continue to bring everyone under one roof to make it easier for the junior and college scouts to attend and evaluate. The regional conference exposure events will cut down on team travel and enhance regional rivalries, all to contain the growing cost of travel and bring more value and excitement to the participants.
The NAPHL is operated by the NAHL's experienced staff and provides an organized and competitive experience guaranteed to benefit all the participating student-athletes. The NAPHL is composed of regular-season Showcase and Events leading up to its Championship Tournament in which the top teams at each level compete for a league championship.
2023-24 T1ER Events
Showcases are the large events utilized to attract more scouts in strategic locations and are mandatory for all 18/16/15/14U teams.
September 14-17, Blaine, MN – Partnered with the NAHL Showcase will consist of four games in four days. This event will be the only ticketed event of the season and is mandatory for all 18/16/15/14U teams. Teams will compete against other T1ER, MN High Performance and Tier I guest teams. Strategically held in conjunction with the NAHL Showcase which draws hundreds of NHL, NCAA and junior scouts annually
October 14-16, Blaine, MN – This event is strategically scheduled for the release of NAHL tenders exclusive to the T1ER League. This event will contain an NCAA and Junior Recruiting seminars and is mandatory for all 18/16/15/14U teams. Teams will compete against other T1ER, MN High Performance and Tier I guest teams.
February 16-19, Troy/Rochester, MI - This event is the T1ER League Dixon Cup championship and is mandatory for all 18/16/15/14/13/12/11U teams. Divisions and seeding will be determined by a series of data points used by NAPHL power rankings.
Regional Events are smaller events utilized to reduce travel cost for league games and are mandatory for all 18/16U teams.
Regional Event East - December 1-4, 2023 in Sewell, NJ
Regional Event West - December 15-18, 2023 in Blaine, MN
Regional Event Central - February 2-4, 2024 in Cranberry Township, PA
NAHL Experience Events are smaller events played at the home of an NAHL team held and are optional for all 18/16U teams.
Optional Event East - October 27-29, 2023 – Boston, MA
Optional Event West - November 17-19, 2023 – Dallas, TX
Important T1ER League Details
Divisions, competition and playoff seeding will be determined by a series of data points utilized by the NAPHL Power Rankings
NAHL Central Scouting will attend T1ER events in order to add additional scouting and exposure opportunities for the players
T1ER League players have access to the NAHL Tendering system that is exclusive only to the NAPHL
NCAA Academic and Junior Recruiting Seminars will take place in October and parents are welcome to attend
Regional events designed to save on travel and maximize guest team competition
An 18U and 16U Top Prospects event will take place in February in conjunction with the NAHL Top Prospects that draws hundreds of scouts annually
T1ER League and its players receive the full support of the NAHL hockey operations and marketing staff
T1ER League has a dedicated Director, Administrator, Digital Media Coordinator and Director of On Ice Officials
USAH and NAPHL Playing Rules are utilized in order to provide a pure junior preparatory environment
USAH National Bound Roster Rules will apply at all times
League website & Real-time statistics dedicated to promoting the T1ER
Live online video broadcast of every T1ER League Showcase game
Participants must stay in approved T1ER partner hotels
Participants must work in the spirit of partnership with T1ER initiatives
Applicants must execute such documents as are reasonably necessary to complete application
No other Tier I youth hockey league has the support and the resources of the NAHL behind it with the common mission to develop players to one day play college hockey. If you have any questions or are interested in joining the T1ER League more information can be found HERE.