Next Shift applications for 2023-24 season for on-ice officials
April 6, 2023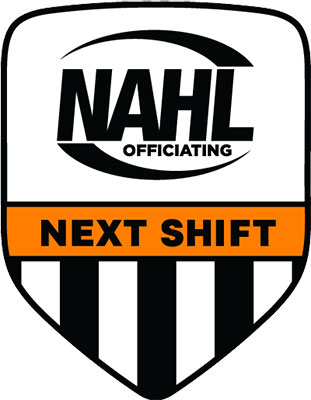 The North American Hockey League (NAHL), in cooperation with the NA3HL and NAPHL is pleased to announce that applications are now being accepted for the 'Next Shift' initiative for the 2023-24 season.
Established in 2022, the Next Shift initiative is a collaborative effort between the NAHL and the USA Hockey Officiating Program to recruit, develop, and advance brand new on-ice officials. The initiative was implemented to target former hockey players who have a passion for the game and incentivize them to take their next shift as an on-ice official.
Operated by the NAHL Officiating Department, which includes NAHL Director of Officiating Keith Kaval and NAHL Manager of Officiating, Kendall Hanley, the Next Shift initiative is carefully designed to provide education, exposure and experience to new officials who are starting their officiating career and who ultimately aspire to advance into higher levels of amateur hockey, junior hockey and beyond. Through the strategic use of NAHL family of league properties, the goal will be to develop Next Shift officials into successful game managers at the NAPHL and NA3HL levels, with the objective of advancing them into the NAHL and beyond.
"We saw some great success stories in Year 1 of the Next Shift initiative. The recruitment and development process were well executed and as a result there was a whole new group of officials that began their journey under our direction and supervision," said NAHL Commissioner and President Mark Frankenfeld.
One of the Next Shift success stories from this past season was former NAHL and Fairbanks Ice Dogs goalie Gavin Nieto. Nieto led the Ice Dogs to the Robertson Cup Championship in 2016. After playing NCAA Division I hockey for Brown University and graduating in 2020, the native of Yorba Linda, CA, was one of the new officials this past season under the Next Shift initiative.
Watch: Gavin Nieto's Next Shift Journey
"My journey into officiating has been a fun one. Hockey has always been a passion of mine and once I found out I enjoyed officiating, it took off from there. Everyone's hockey career comes to an end at some point and this game give us so much, so I wanted to stay involved and give back and that's what the Next Shift has done. You are still involved in the game and still get to make an impact," said Nieto.
Space is limited. The online application for the Next Shift initiative will close Friday, June 2, 2023 at 11:59 PM. Applicants will be notified of their application results on or before June 16, 2023. If selected to participate, officials will receive additional details on the Next Shift initiative confirmation process, important dates and other relevant information.
Applications are now being accepted to join the Next Shift initiative. For a full overview of initiative benefits, requirements, important deadlines and dates, and details on the sign-up bonus policy please visit http://www.nahl.com/officiating/next-shift/ Are you ready for your next shift?