NAPHL announces T1ER, SHOW Playoff schedule in Michigan
February 14, 2023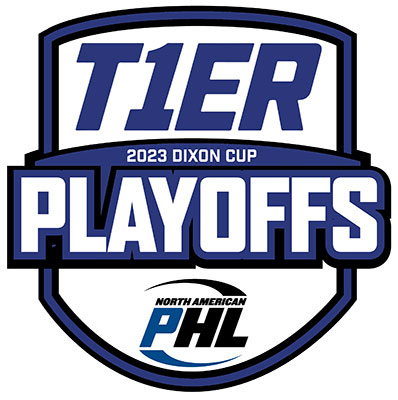 The NAPHL is pleased to announce the schedule for the 2023 T1ER Dixon Cup Championship at the 18, 16, 15, and 14U levels, in addition to the schedule for the 2023 SHOW American Division Championship for the 18 and 16U levels.
The event will take place at four different facilities in suburban Detroit, Michigan from February 17-20, 2023. Games will take place at Buffalo Wild Wings Arena, and Suburban Ice in Rochester, Royal Oak, and Macomb.
The 16U and 18U T1ER Playoffs for the Dixon Cup will be broken into a 'Gold' (Championship) and 'Silver' (Consolation) format like what has been used in years past. Due to the fact the season is an unbalanced schedule, teams were ranked (1-18) based on the new NAPHL Power Rankings. The NAPHL Power Rankings were developed using several important and statistical criteria. These rankings were used to determine the top 12 teams to participate in the Gold Division and the bottom 6 teams to participate in the Silver Division.
The Gold Division will play three Round Robin Games within their Bracket. Followed by consolation, Semi-Finals, and Finals. The Silver Division will play three Round Robin Games across the other bracket followed by fourth game determined by Round-Robin Standings for a Silver Championship or Consolation games.
The NAPHL's T1ER Playoff Championships (Dixon Cup) are named after Dean Dixon, longtime coach of the NAPHL's Lansing Capitals, one of the charter members of the NAPHL. In the Summer of 2013, Dixon was diagnosed with brain cancer. Even though the tumor was thought to be inoperable, it was successfully removed, and Dean continued his fight through radiation and chemotherapy. On March 17, 2014, Dixon ultimately lost his battle with the disease, but his influence and legacy on the Capitals program and the NAPHL is something that will never be forgotten.
All games will be broadcast live on HockeyTV
Download the new NAPHL App for iPhone
Download the new NAPHL App for Google Play
Arenas (Troy - Rochester - Macomb - Royal Oak)
All-Time Dixon Cup Tier 1 Champions
2022: 18U-Northstar Knights, 16U-Esmark Stars, 15U-Reapers Hockey Association, 14U-Reapers Hockey Association
2021: 18U-Northstar Knights, 16U-Florida Alliance, 15U-CarShield AAA, 14U-Arizona Bobcats/Colorado Springs Tigers
2020: 18U-Meijer AAA, 16U-Gentry Academy, 15U-CarShield AAA
2019: 18U-Thunder Bay Kings, 16U-Meijer AAA, 15U-Rocky Mountain RoughRiders
2018: 18U-Esmark Stars, 16U-Arizona Bobcats, 15U-Rocky Mountain RoughRiders
2017: 18U-Madison Capitols, 16U-Esmark Stars, 15U-Washington Little Caps
2016: 18U-Madison Capitols, 16U-Omaha AAA
2015: 18U-New Jersey Jr. Titans, 16U-Omaha AAA
2014: 18U-Omaha AAA, 16U-Lansing Capitals
2013: 18U-Indiana Jr. Ice, 16U-Omaha AAA
2012: 18U-California Titans, 16U-Indiana Jr. Ice, 14U-St. Louis Selects
2011: 18U-DC Capitals, 16U-Pikes Peak Miners, 14U-Rocky Mountain RoughRiders
2010: 18U-California Titans, 16U-Pikes Peak Miners