St. Cloud forward Hong makes NCAA DI commitment
February 9, 2023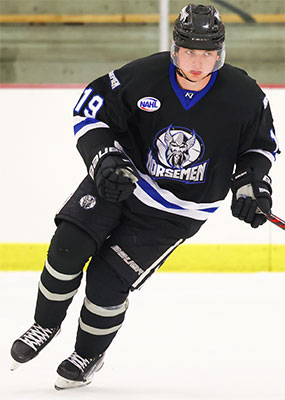 The St. Cloud Norsemen of the North American Hockey League (NAHL) are pleased to announce that forward and captain Nik Hong announced his commitment to play NCAA Division I hockey for Army-West Point in Atlantic Hockey and will play hockey for Army starting in the fall.
"I think it's a great and daunting opportunity; it's a world-class institution. Academics has always been a big key for me in choosing a school and you can't really do much better than West Point," boasts Hong. "The military side is exciting, there's a lot of cool aspects, a lot of cool opportunities. The coaching staff is top notch there, they're unbelievable. They really care about each player and really see the potential in you so that makes it an easy choice for me."
Hong, 20, has a stat line of 18 points (5 goals, 13 assists) in 28 games played for the Norsemen so far during the 2022-23 season. The 6'0/190 lbs. native of Minneapolis, MN, has 84 points in 137 career regular season NAHL games played in his three-year stint in St. Cloud as well as a goal and two assists in the postseason.
Prior to his NAHL career Hong spent four seasons with the Shattuck-St. Mary's program in Faribault, MN, which included spending the 2017-18 season playing in the NAPHL for the Shattuck-St. Mary's 16U team.
Hong is in his third season with the Norsemen and is a rare three-year captain in the NAHL. He was an alternate captain in 2020-21 and for the last two seasons has worn the "C." Who he is off the ice is as important to the coaching staff as what he can do on the ice and it's a big reason they have trusted him to be a leader.
"I think part of it, in building a relationship with his family; his upbringing and getting to know them, you see why he has a great head on his shoulders. He just does a great job with the younger guys and helping people learn the ropes," St. Cloud Assistant Coach Brock Kautz explains. "You wanna talk about a guy that 'get's it,' Hong is that kid. He understands the process, he understands what it takes to win and compete at a high level and it's very rewarding for him but also for us to see that he does have a commitment next year now."
Hong has no problem finding the scoresheet but he may be more valuable to the Norsemen as someone who keeps their opponents from scoring.
"Honger plays a 200-foot game and he takes a lot of pride in that. He makes sure he takes care of below the dots in his own end and he does a fantastic job in that," compliments Kautz. "It just speaks highly of someone who is reliable 1. in the faceoff circle, 2. in their own end and 3 on special teams, and he can play 5-on-5 as well so he has the full package. Obviously he is a leader for our team and that speaks volumes as well. There's a lot of nice things that one can say about Hong and it's nice to see that others see that too."
Blake Perbix, who has been a three-year teammate of Hong's with the St. Cloud Norsemen, sounds nearly as excited as Hong when he speaks about his captain's news. "It's a big deal for Honger that he committed to Army, so I'm very excited for him and he deserves every bit of it," raves Perbix.
It's a difficult enough ask of a Division-I athlete to juggle being both a student and an athlete, but at West Point Academy and the other military institutions, student-athletes have even more of a challenge as Hong will be an Army cadet. "It'll be a challenge, it'll be really tough, but I'm looking forward to that challenge, looking forward to testing myself and seeing what I can do and what I'm capable of," Hong reflects.
Kautz, having seen what Hong is already doing in St. Cloud, has no concerns about him making it work at West Point. "He's gonna learn pretty quick what he's gonna be able to do and how much effort he's going to have to put into each of those categories. Just who he is as a person, I think he's so good at his routine and his daily tasks, it's just a great fit for him and I think he's going to love it," says Kautz. "I know they're getting a great kid not only as a hockey player but someone who truly makes everybody around him on and off the ice a better person. He's a phenomenal kid."
Army competes in Division I hockey in the Atlantic Hockey Association and their head coach Brian Riley is in his 19th season at the helm of the Black Knights' hockey program.
Click here for an updated NAHL to NCAA commitment list