South and West go undefeated at 2023 NA3HL Top Prospects
February 8, 2023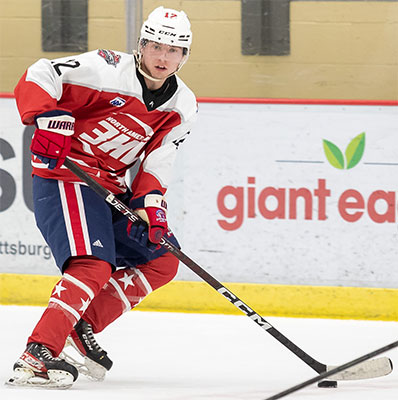 The 2023 NA3HL Top Prospects Tournament came to a close on Tuesday, February 7th at the UPMC Lemieux Sports Complex in Cranberry Township, PA.
Team South, Team Central and Team East came away with wins on Tuesday. Both Team South and Team West finished with 2-0 records for the event.
Day 2 recaps
South 6 vs. Frontier 4 – In a battle of undefeated teams, the South Division got two goals from Aaron Best (Texas Brahmas) and Jack Herron (Texas RoadRunners) and beat the Frontier, 6-4. Parker Norling (Sheridan Hawks) opened the scoring in the 1st period. That was answered by goals from Herron and Best later in the period to make it 2-1 for the South. In the 2nd period, the Frontier regained the lead with back-to-back goals from Harlan Wojtusik (Helena Bighorns) and Sky Solig (Gillette Wild). Before the end of the 2nd period, the South tied the game at 3-3 on a goal from Michael Imala (Texas Brahmas). Tyler Alldredge (Helena Bighorns) scored early in the 3rd period to put Frontier ahead 4-3. Later in the 3rd period, the South stormed back with the second goals from Best and Herron and one from Ethan Geralnik (Texas RoadRunners). John Moriarty (Louisiana Drillers) stopped 6 of 9 shots and Hunter Hein stopped 23 of 24 shots in the win. Caleb Cross (Butte Cobras) stopped 16 of 18 shots and Jake Turek (Gillette Wild) stopped 9 of 13 shots in the loss.
Central 6 vs. NAPHL 3 – Dillon Schmidt scored twice and Team Central broke open a 3-3 tie with three goals in the 3rd period as they defeated team NAPHL, 6-3. The game was tied at 3-3 through two periods. Connor Jalbert (Northeast Generals Academy) had two goals and Brody Simko (Esmark Stars) had one goal for the NAPHL, while Hayden Shoemake (Oregon Tradesmen), Patrick Toomey (Milwaukee Power), and Jacob Heuerman (St. Louis Bandits) scored for Team Central. In the 3rd period, Team Central pulled away with two goals from Schmidt and one goal from Max Erstad (Milwaukee Power). Cam Pendleton (Peoria Mustangs) made 22 saves on 25 shots and Adam Prokop (Milwaukee Power) stopped all 6 shots he faced in the win. In goal for the NAPHL, Nikita Volski (Esmark Stars) stopped all 7 shots he faced, Michael Manzi (Philadelphia Little Flyers) stopped 11 of 14 shots, and Brady Govero (CarShield AAA) stopped 3 of 6 shots in the loss.
West 4 vs. East 2 – Team West joined Team South with perfect 2-0 records at Top Prospects thanks to a 4-2 win over the East on the final day. Four different players scored for the West and defenseman George Moore (Granite City Lumberjacks) had two assists. The scoring started in the 1st period with Matthew Nuzzolilo (Northeast Generals) scoring the first of his two goals for Team East. Team West came back with two goals in the 2nd period courtesy of Cullen Hogan (Mason City Toros) and Willem Kerr (Minnesota Loons). Team East tied the game at 2-2 early in the 3rd period on another goal from Nuzzolilo, but West pulled away with two goals later in the 3rd period from Carter Newpower (Mason City Toros) and Jacob McPartland (Granite City Lumberjacks). For Team West, Nolan Lacosse (New Ulm Steel) stopped 16 of 17 shots and Michael D'Orazio (Willmar WarHawks) stopped 12 of 13 shots in the win. For Team East, Ryan Maguire (Danbury Jr. Hat Tricks stopped 22 of 23 shots and Ian Kangas stopped 16 of 18 shots in the loss.