Final T1ER regular season event faces-off in Pittsburgh
February 2, 2023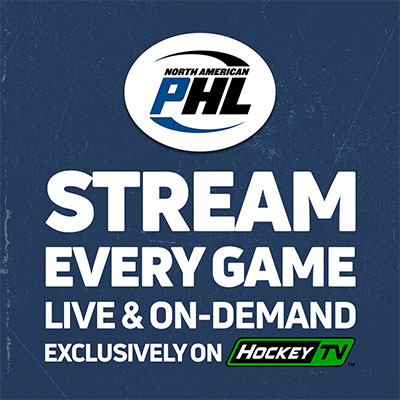 The North American Prospects Hockey League (NAPHL) is pleased to announce the schedule for the second event for the 13, 12, and 11U Divisions of the T1ER League, which will take place from February 3-5 at the Robert Morris University Island Sports Center and the UPMC Lemieux Sports Center in suburban Pittsburgh, Pennsylvania.
This is the 10th and final NAPHL T1ER regular season event overall of the 2022-23 season, which is the 14th season of the NAPHL.
This weekend continues an exciting step for the NAPHL as events have expanded to include some of the younger players who have not had the opportunity to experience the NAPHL until now. This weekend's showcase will be a great eye-opener for players, teams, and parents, who will get a first-hand experience of what an NAPHL event is like.
In addition to the 13, 12, and 11U Divisions, the NAPHL T1ER 18U and 16U Central Conference will be playing in their final regular season games as well.
All games will be broadcast live on HockeyTV
Download the new NAPHL App for iPhone
Download the new NAPHL App for Google Play
T1ER 13U/12U/11U Digital Program
The NAPHL's T1ER League is comprised of teams at the 18U, 16U, 15U, and 14U age groups that compete in a full NAPHL season at highest level for USA Hockey, which includes strategically located and scheduled showcases during the 2022-23 season. Additionally, two Showcases for 13U, 12U and 11U teams were created to help educate the players and parents about the T1ER landscape and to provide them a great hockey experience.
For the 2022-23 season, T1ER teams will compete in a combination of league-wide and regional conference exposure events. The league-wide showcases will continue to bring everyone under one roof to make it easier for the junior and college scouts to attend and evaluate. The regional conference exposure events will cut down on team travel and enhance regional rivalries, all to contain the growing cost of travel and bring more value and excitement to the participants.
Historically, the majority of NAPHL players recruited by NAHL teams come from the T1ER League, which includes 60+ NAPHL tenders per season. The successful advancement of T1ER players is due to the internal mechanisms the NAHL has created exclusively for the members of the NAPHL.
The T1ER League is operated by the experienced and professional NAHL staff. The League has an updated and informational website dedicated to promoting the NAPHL, players, and teams. The T1ER League also features real-time scoring through NAHL technology partner LeagueStat, live broadcasting and play-by-play on NAHLTV of all games, players evaluated by NAHL Central Scouting to help promote the players to the NAHL, and all games are played under USA Hockey rules and standards at the Tier I level.