T1ER 18, 16U teams open play in Ann Arbor on Friday
January 12, 2023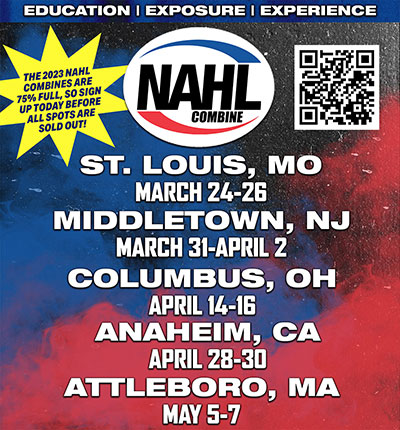 The next event for the NAPHL 2022-23 NAPHL regular season will take place in suburban Detroit with the final regular season event for the T1ER 18U and 16U teams, as well as, the final event of the season for the SHOW National Division 18U and 16U teams, along with the SHOW 14U Division.
The T1ER games will be played at the Ann Arbor Ice Cube in Ann Arbor, MI and the USA Hockey Arena in Plymouth, MI. The T1ER event runs from January 13-16.
The SHOW games will be played at the Troy Sports Center in Troy, MI and Suburban Ice in Rochester, MI. The SHOW event runs from January 14-16.
18U T1ER Schedule
16U T1ER Schedule
18U SHOW Schedule
16U SHOW Schedule
14U SHOW Schedule
All games will be broadcast live on HockeyTV
Download the new NAPHL App for iPhone
Download the new NAPHL App for Google Play
All 18 organizations within the T1ER League at the 18U and 16U age levels will be in Michigan this weekend, showcasing their skills in front of dozens of junior and college scouts. The event is held in conjunction with the USA Hockey Biosteel All-American Game being held on January 16th at 4pm at USA Hockey Arena in Plymouth. With the addition of that marquee event, NHL scouts will also be in the area this weekend, getting a look at the top talent the NAPHL T1ER league has to offer. To date, 34 players in the T1ER league have signed tenders with clubs in the North American Hockey League (NAHL).
It's the final weekend of the season for the SHOW League national division teams. After events in Frisco, Philadelphia and Blaine it all comes down to this final weekend here in Michigan. Not only is it a big a weekend for teams in the standings but this is also the final chance for players to make a good impression on the many scouts that will be in the building. Every North American 3 Hockey League (NA3HL) team will be in attendance this weekend looking for the next crop of players they believe will lead them to a Fraser Cup Championship.