Schedule, coaches announced for 2023 NA3HL Top Prospects
January 12, 2023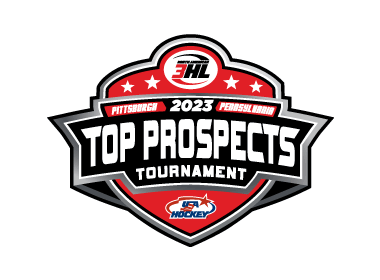 The 2023 North American 3 Hockey League (NA3HL) Top Prospects Tournament is less than a month away and will be held from February 6-7, 2023, at the UPMC Lemieux Sports Complex in Cranberry Township, Pennsylvania. 100 total players from the NA3HL will be spread amongst five divisional teams who will play in two games each during the event.
The NA3HL Standings were frozen following the games on Sunday, January 8th. Teams were seeded within their division based on win percentage. The number of players each NA3HL team will send to the tournament is based on each team's winning percentage within their group.
Each NA3HL Top Prospects team will consist of a 20-man roster (12 forwards, 6 defensemen and 2 goalies). Any player who will be considered for the event, must be nominated by their respective head coaches. Each divisional team will have two coaches, who will be the coaches of the teams with the best winning percentage in each division as of January 8th.
In addition to the five NA3HL teams, there will be one NAPHL 18U Top Prospects team that will also play in the event. The NAPHL 18U Top Prospects team will be a collection of the best 18U players from the NAPHL T1ER League teams. It is a unique opportunity for the NAPHL because no other youth league provides their players with this type of exposure, which will include all 31 NAHL teams and hundreds of NCAA and NHL scouts.
2023 NA3HL Top Prospects schedule (all times eastern, subject to change):
Monday, February 6th
9:00am: South vs. East
12:00pm: NAPHL vs. West
3:00pm: Central vs. Frontier
Tuesday, February 7th
8:00am: Frontier vs. South
9:30am: NAPHL vs. Central
12:30pm: East vs. West
Top Prospects Coaches
Central – Head Coach: Eric Fenton (Oregon), Asst. Coach: Chris Ratzloff (Rochester)
East – Head Coach Darryl Locke (Northeast), Asst. Coach: Kevin Cunningham (Norwich)
Frontier – Head Coach: Ethan Hayes (Gillette), Asst. Coach: Scott Cunningham (Helena)
South – Head Coach: Mike Beavis (TX RoadRunners), Asst. Coach: John Goffredo (TX Brahmas)
West – Head Coach: Brad Willner (Granite City), Asst. Coach: Jeff Crouse (Alexandria)
The NA3HL Top Prospects Tournament is played in conjunction with the North American Hockey League's (NAHL) Top Prospects Tournament. The event has quickly become one of the most highly scouted events of its kind, with hundreds of junior, NCAA and NHL expected in attendance this season.