T1ER teams conclude final day in Philly on Monday
December 6, 2022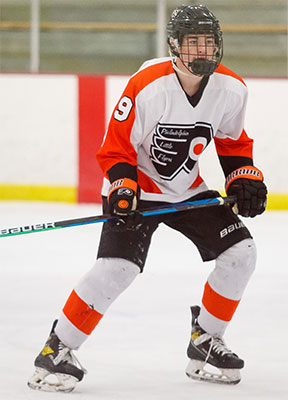 The T1ER East Division 18U and 16U teams each played one more game in Philadelphia on Monday as the seventh event of the season concluded.
Each T1ER East Division team has now played between 12-16 NAPHL games so far during the 2022-23 season.
The big winners in Philly were the New Jersey Jr. Titans, Philadelphia Little Flyers, and Maine Nordiques at the 18U level, while at the 16U level the New Hampshire Avalanche went a perfect 4-0 and the Philadephia Hockey Club and New Jersey Jr. Titans also had good events.
Day 4 recaps
18U: The Maine Nordiques wrapped up the final day of play at the NAPHL East Showcase with a statement 11-2 win against the Philadelphia Hockey Club. Shane Kozlina totalled 4 points, Grant Dietz mirrored that as well, while Dylan Chun netted two goals. Goaltender Rylan Freshwater denied 17 tries on his way to the win. The New Jersey Jr. Titans blanked the New Hampshire Avalanche, 7-0. Jersey forward Aihep Sidarovich added a hat-trick and both Lucas Karlsson and Robbie Sherman totalled 3 points. Netminder Fedor Tabako posted a shutout in between the pipes. The Philadelphia Little Flyers silenced the Northeast Generals in a 7-0 shutout win. Zach Crain found the back of the net twice and both Hunter Engleman and Sammy Phillipis handed out two helpers. Jake Schunke posted a 16 shot shutout performance.
16U: In an overtime thriller, the New Hampshire Avalanche defeated the Maine Nordiques, 2-1. Griffin Halecki won the game as he scored the overtime goal with the help of Jeremy Poirier. Wyatt Demers was great between the pipes stopping 19 of the 20 shots that came his way. The New Jersey Titans finished the NAPHL East Showcase with a 7-2 victory over the Northeast Generals. Blake Fischer netted two goals, JP Saddy handed out 3 assists, and Nikolas Reich added a goal and two assists. Goaltender Aidan Rowland picked up the win between the pipes. The Philadelphia Hockey Club took the Philadelphia Little Flyers where PHC finished with a shootout victory, 4-3. Kevin Walton and Alex Fusaro both scored in the shootout frame. PHC goaltender Cole Werthman stopped 29 of the 32 shots he faced in the victory.