NAPHL set for T1ER, SHOW League event in Philadelphia
December 2, 2022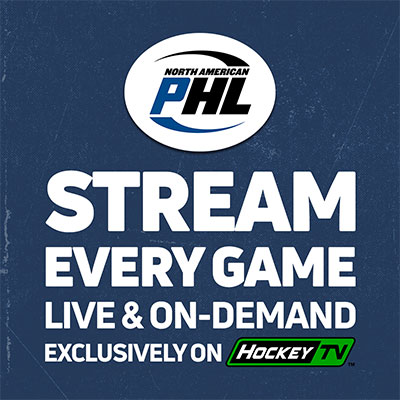 The NAPHL will head East again for its seventh event of the 2022-23 season as the T1ER League 18U and 16U teams from the East Division, in addition to 18U and 16U teams from the SHOW League will face off in a regional event at the Aston Ice Works in Aston, PA from December 2-5, 2022.
This is the seventh NAPHL T1ER event and the second SHOW event of the 2022-23 season, which is the 14th season of the NAPHL.
The majority of East Division teams have played 7-8 league games to date, which came back during the NAHL Showcase in September and the regional event in New Jersey.
Merchandise: NAPHL merchandise will be on sale during the event. NAPHL merchandise is sold exclusively and only at NAPHL events and features the hottest and newest styles of sweatshirts, t-shirts, shorts, hats, and more!
NAHL Games: The Philadelphia Rebels will be hosting the Danbury Jr. Hat Tricks on Friday, December 2nd and Saturday, December 3rd at the Hollydell Ice Arena in Sewell, NJ.
All games will be broadcast live on HockeyTV
Download the new NAPHL App for iPhone
Download the new NAPHL App for Google Play
The NAPHL's T1ER League is comprised of teams at the 18U, 16U, 15U, and 14U age groups that compete in a full NAPHL season at highest level for USA Hockey, which includes strategically located and scheduled showcases during the 2022-23 season. Additionally, two Showcases for 13U, 12U and 11U teams were created to help educate the players and parents about the T1ER landscape and to provide them a great hockey experience.
The SHOW is a collection of Tier I and Tier II organizations from all over North America that compete at the Tier I level at NAPHL events. It also includes teams from some of the strongest Tier II leagues in the United States like the Central States Developmental Hockey League (CSDHL). For organizational and scheduling purposes, the 18U and 16U age groups will be split into two conferences but the 14U will play in the same Conference during the 2022-23 season.
The NAPHL is operated by the experienced and professional NAHL staff. The League has an updated and informational website dedicated to promoting the NAPHL, players, and teams. The NAPHL also features real-time scoring through NAHL technology partner LeagueStat, live broadcasting and play-by-play on NAHLTV of all games, players evaluated by NAHL Central Scouting to help promote the players to the NAHL, and all games are played under USA Hockey rules and standards at the Tier I level.