NAPHL releases schedule for SHOW, T1ER event in Texas
November 8, 2022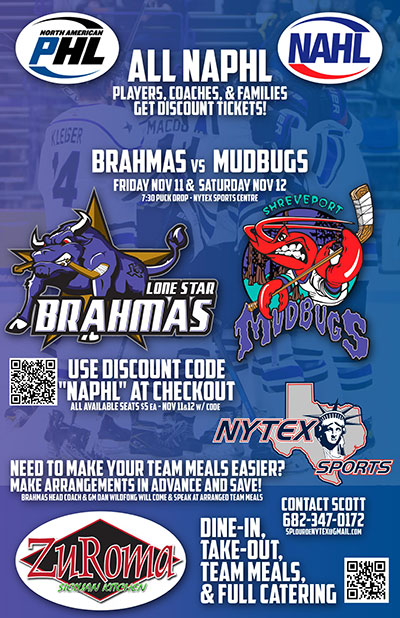 The North American Prospects Hockey League (NAPHL) has announced the schedule for its fifth event of the 2022-23 season, which will take place in Frisco, Texas from November 11-14.
This event will mark the 2022-23 season debut of the SHOW League. It is also the fourth event for the T1ER League as the West Division teams will be in attendance.
The event will be played at several arenas in the North Texas DFW area including the Children's Health StarCenters in Farmers Branch, Frisco, McKinney, Plano, Richardson, and also the NYTEX Sports Centre.
Merchandise: NAPHL merchandise will be on sale during the event at Farmers Branch, McKinney, and Plano. NAPHL merchandise is sold exclusively and only at NAPHL events and features the hottest and newest styles of sweatshirts, t-shirts, shorts, hats, and more!
NAHL Games: The Lone Star Brahmas will be hosting the Shreveport Mudbugs for two games on Friday, November 11 and Saturday, November 12 both at 7:30pm.
The NAPHL's T1ER League is comprised of teams at the 18U, 16U, 15U, and 14U age groups that compete in a full NAPHL season at highest level for USA Hockey, which includes strategically located and scheduled showcases during the 2022-23 season. Additionally, two Showcases for 13U, 12U and 11U teams were created to help educate the players and parents about the T1ER landscape and to provide them a great hockey experience.
The SHOW is a collection of Tier I and Tier II organizations from all over North America that compete at the Tier I level at NAPHL events. It also includes teams from some of the strongest Tier II leagues in the United States like the Central States Developmental Hockey League (CSDHL). For organizational and scheduling purposes, the 18U and 16U age groups will be split into two conferences but the 14U will play in the same Conference during the 2022-23 season.