NAPHL concludes T1ER event in New Jersey
November 7, 2022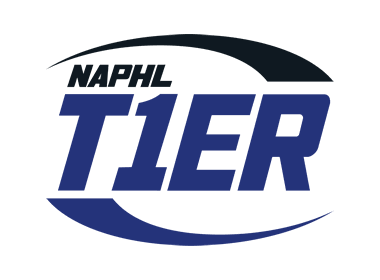 The NAPHL concluded its fourth event of the 2022-23 season on Sunday at the Middletown Sports Complex in New Jersey.
Each 18U and 16U team played one more game on Sunday, with a chance to climb the standings and make an impact in November.
The next event will take place on November 11-14 in Frisco, Texas as the SHOW League makes its 2022-23 debut, along with the T1ER West Division teams.
Day 3 recaps
18U Division: The Northeast Generals dominated on both ends of the ice against the New Jersey Titans, beating them by a final score of 6-0. Netminder Finn Jacques had 19 saves in the shutout while forward Kameron Young put up two goals in the win. The New Hampshire Avalanche defeated the Maine Nordiques 4-0, backed by a 25 save shutout performance from their netminder Michael Hayes. Carter Amidon scored a pair of goals for the Avalanche and their other scores came from Ryan Dann and Hunter Woolfrey. The Southern TIER Admirals took down the Jersey Whalers 7-3 to pick up their first victory of the weekend. Forward Hunter Coley picked up a hat trick in the win. Andrew Kennedy had a pair of goals and Max Schaubel had a goal and three assists for the Admirals.
16U Division: Philadelphia Hockey Club shut down the Little Flyers after shutting them out and scoring four goals in regulation. Jack Byrne, Marc Nicastro, Riley Capecci, and Ryan Jafffe were the goal scorers for PHC and goaltender Cole Werthman made 28 saves in the shutout. The New Hampshire Avalanche finished off their weekend with a 5-1 win over the Northeast Generals. Tyler Tsoukalas scored a pair of goals in the win while Jeremy Poirier, Brian Baumgardner, and Tommy Titone were the other goalscorers. The New Jersey Titans finished off their event with a 5-3 victory over the Maine Nordiques. Goaltender Kiefer Mulvey had a strong outing, making 20 stops in the win. Phillip Birmingham and Luke Delaney scored one goal for the Titans while Nickolas Reich put up a hat trick.