NAPHL alumni recognized by NHL Central Scouting
October 26, 2022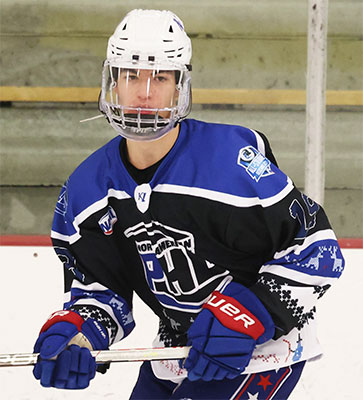 The influence the NAPHL and its former players are having in the NHL took another big step this week with the release of the 'Prospects to Watch' list for 2023 draft-eligible players, which is created and developed each season by NHL Central Scouting.
It is a preliminary list of players to watch for the 2023 NHL Draft in North America and Europe.
Six former NAPHL players have been recognized on the list.
The lists, comprised of "A," "B" and "C" players for the upcoming season in each of the major junior hockey leagues, are sent to NHL team scouts for the purpose of tracking the top draft-eligible players entering the 2022-23 season.
The players on the preliminary list with A ratings are considered potential first-round picks. Players with B ratings are considered possible second- or third-round choices, and those with C ratings are potential fourth-, fifth- or sixth-round selections.
NAPHL alumni
Gavin Brindley, F, Michigan (NCAA) (Florida Alliance 16U, 2019-20)
Jacob Fowler, G, Youngstown (USHL) (Florida Alliance 16U, 2019-20)
Jack Harvey, F, Chicago (USHL) (Gentry Academy 16U/15U, 2018-20)
Thomas Kiesewetter, G, Corpus Christi IceRays (NAHL) (Maine Nordiques 18U, 2021-22)
Zach Nehring, F, Shattuck-St. Mary's Prep (Shattuck-St. Mary's 18U, 2020-21)
Kaden Shahan, F, Sioux City (USHL) (Northwest Stars 18U/16U, 2020-22)
This past summer, nine players with NAPHL ties were selected in the 2022 NHL Entry Draft, which was held on July 7-8 at the Bell Centre in Montreal, Quebec, and hosted by the Montreal Canadiens.
The nine NAPHL players taken in the 2022 NHL Draft was an all-time record for the NAPHL. It was yet another benchmark moment for the NAPHL, which is currently in its 14th season in 2022-23 with teams at the 18U, 16U, 15U, and 14U USA Hockey Tier I and Tier II youth levels. The success of teams on the National stage, as well as, the success of NAPHL players at the next levels of hockey, is further proof that the NAPHL is redefining exposure and has elevated itself to one of the premier training grounds for development and opportunity.