NAPHL announces 2021-22 T1ER All-18U Teams, Honor Roll
June 9, 2022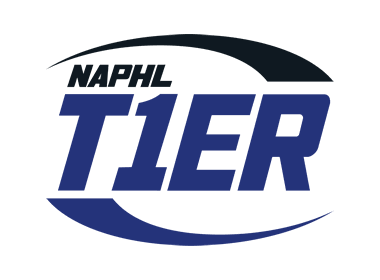 The North American Prospects Hockey League (NAPHL) has announced All-NAPHL T1ER 18U Teams for the Central, East and West Divisions, as well as its Honor Roll in the 18U Division for the 2021-22 season.
Consideration and selection are based on player performance in all NAPHL regular season and playoff games throughout the 2021-22 season.
All-NAPHL 18U Team - Central Division
Forward: Shane Kozlina, Esmark Stars
Forward: Reese Laubach, Northstar Knights
Forward: Adam Schankula, Tri State Spartans
Defense: Liam Varmecky, Esmark Stars
Defense: Brian Morse, Northstar Knights
Goalie: CJ Kier, Northstar Knights
All-NAPHL 18U Team – East Division
Forward: Andrew Hodolitz, Philadelphia Little Flyers
Forward: Thomas Perivolotis, East Coast Spartans
Forward: Ethan Wongus, New Jersey Jr. Titans
Defense: Owen Grainger, Maine Nordiques Academy
Defense: Andrew Henry, Philadelphia Little Flyers
Goalie: Tyler Temoyan, Philadelphia Little Flyers
All-NAPHL 18U Team - West Division
Forward: Inde Abresch, Madison Capitols
Forward: Max Mudge, Northwest Stars
Forward: Nicholas Noble, Colorado Springs Tigers
Defense: Patrick Lindholm, Arizona Bobcats
Defense: Connor Thue, Shattuck-St. Mary's
Goalie: Rhys Netherton, Northwest Stars
NAPHL 18U Coach of the Year: Turner Stevenson, Northwest Stars
18U Academic Honor Roll
To qualify for the NAPHL Honor Roll, student-athletes must have achieved certain academic standards during the 2021-22 school year and must have been nominated by a coach or member team.
Arizona Bobcats: Kelton Chadwick, Greyson Keller, Patrick Lindholm, Daniel O'Rielly, Keaton Tonejas, Ben Willcoxson, Greg Willmering, Pierson Zittel.
Colorado Springs Tigers: Scott MacGillivray, Ryan King, Michael Fluty, Nick Noble, Finn Theriault, Marshall Moore, Derek Rassell, Hunter Coulombe, Joe Feamster, Brady Porter, Matt Filek.
Des Moines Buccaneers AAA: Michael Golosinski, Cody Kempf, Sam Perdion, Logan Slou.
Esmark Stars: Raymond Janik, Shane Kozlina, Maddux Rearic, Logan Scanlon.
Indy Jr. Fuel: Dominic Dager, Kaeden Edstrom, Connor Graham, Nicco Marraccini, Paul McClure, Andrew Penca, Charlie Yott.
Northeast Generals: Ryan Boysen, Ryan Cox, John DiCio, Trevor Hoffman, Trey Mattern, Nick Refine, Jackson Schouten, Shane Stone, Harrison Whissel, Nolan Zotter.
Northstar Knights: Logan Anderson, Christian Carto, Ashton Christman, Dylan Cook, Cody Croal, Caleb Elfering, Cooper Fredericks, Wes Griffin, Jaxon Grosdidier, Nathan Huntington, Tyler Johnson, Brady Jones, CJ Kier, Reese Laubach, Dawson McCann, Brian Morse, Nathan Mulder, Carter Olson, Kaleb Pitman, Mitch Simmons, Logan Verpoort.
Northwest Stars: Max Mudge.
Ontario Jr. Reign: Ethan Beane, Logan Burger, Donovan Felton, Ethan Gaeta. Camden Lewis, Malakai Lynch, Kristian Seppanen, Trent Teruya, Kevin Zamazal.
Philadelphia Little Flyers: Hunter Engelman, Matt Harris, Hunter Hayes, Sam Phillips, Nathan Rabadam, Ryan Talorico, Tyler Temoyan, David Vergules.
Tri State Spartans: Josh Bisson, Ben Comatas, Leo Crawford, Ryan Hacker, Jonah Kocan, Oliver McClough.
West Coast Renegades: Ayden Adair, Cole Bisson, Cooper Burn, Brandon Consolo, Gabe Hopkins, Colten McIntyre, Cutler Schofield, Andrew Simons, Keegan Torrey.