El Paso defenseman Anderson makes NCAA DI commitment
June 6, 2022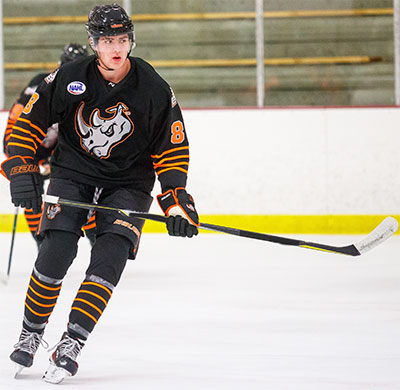 The El Paso Rhinos of the North American Hockey League (NAHL) are pleased to announce that defenseman and NAPHL grad Jack Anderson has committed to play NCAA Division I hockey for Lindenwood University.
In 57 regular season games during the 2021-22 season in the NAHL, Anderson, 19, posted five goals and 19 assists for 24 points. On the Rhinos' team, he was the second highest scoring defenseman and tallied 100 shots on the season.
In the Fall, Anderson will attend Lindenwood, a private university located in St. Charles, Missouri, only thirty minutes from his hometown of St. Louis. The caliber of education and the proximity to home helped the Missouri native make his decision.
"I chose Lindenwood because it will allow me to get a great education and develop and grow as a hockey player," said Anderson. "Being able to play the sport I love in front of family and friends is a great bonus as well."
This was the first season of junior hockey for the 6'6/225 lbs. native of St. Louis, MO. During the previous four seasons, Anderson played in the NAPHL for the CarShield AAA program.
From 2019-21, Anderson played for the CarShield 18 team, recording 23 points in 45 NAPHL games during those two seasons. He signed a tender to play with El Paso on February 21, 2021.
Anderson also played in the NAPHl for the CarShield 16U (2018-19) and 15U (2017-18) teams.
In March, Lindenwood announced that it would add an NCAA DI men's hockey program and become the 63rd NCAA Division I men's ice hockey program in the country. Anderson is looking forward to making history as part of the school's first ever NCAA DI hockey team.
"As players we can help develop and set high expectations for the new program. Just like in El Paso, there will be ups and downs during the season, but we have an exciting opportunity to experience great coaching and use that to become a successful program," said Anderson.
Anderson will undoubtedly make an impact at Lindenwood, just as he did in Rhino Country. His help off the ice was integral to the Rhinos' community engagement efforts this season. In May, he received the NAHL's South Division's Community Service Award. Humbly, he credits the organization with helping him grow both on and off the ice.
"El Paso gave me the opportunity to take my game to another level and put me in a position to be seen by collegiate coaches," Anderson said. "I grew as a player and a person with the Rhinos' organization and I'm very thankful for the time I spent in El Paso."
Click here for an updated NAHL to NCAA commitment list