NAHL launches Next Shift initiative for on-ice officials
May 19, 2022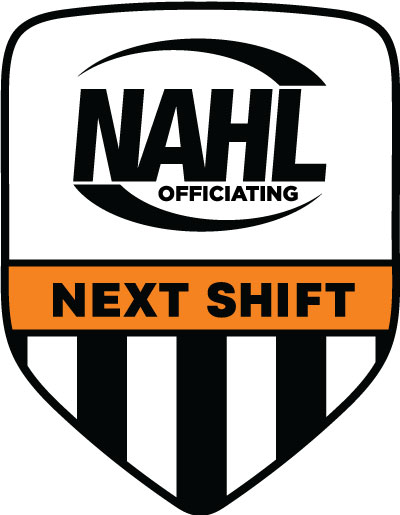 The North American Hockey League (NAHL), in cooperation with the NA3HL and NAPHL is excited to announce the 'Next Shift' initiative.
The Next Shift initiative is a collaborative effort between the NAHL family of leagues and the USA Hockey Officiating Program to recruit, develop, and advance on-ice officials. The initiative is being implemented to target former hockey players, both male and female, who have a passion for the game and incentivize them to take their next shift as an on-ice official.
"We have seen a decrease in the number of on-ice officials in recent years, so the initiative is being implemented to incentivize former hockey players to take their next shift as an on-ice official. Officials will work directly with NAHL Manager of Officiating, Kendall Hanley, to get started on their officiating journey through a series of continuing education webinars and quizzes and will have the opportunity to gain invaluable experience through the strategic use of all our family of leagues and hockey properties over the course of the 2022-23 season," said NAHL Commissioner and President Mark Frankenfeld.
"Hockey players have experience on the ice and understand the game, so they are a natural to become our next wave of on-ice officials. They are in game shape, aware of the rules and standard of play. They understand it's a physical and emotional game. They have a familiarity on the ice at a high level and just need to gain experience through game situations and feedback from our officiating coaches to get started as an on-ice official," said NAHL Director of Officiating, Keith Kaval.
Operated by the NAHL Officiating Department, the Next Shift initiative is carefully designed to provide education, exposure and experience to new officials who are starting their officiating career and who ultimately aspire to advance into higher levels of amateur hockey, junior hockey and beyond. Through the strategic use of NAHL family of league properties, the goal will be to develop Next Shift officials into successful game managers at the NAPHL and NA3HL levels, with the objective of advancing them into the NAHL and beyond.
Applications are now being accepted to join the Next Shift initiative. For a full overview of initiative benefits, requirements, important deadlines and dates, and details on the sign-up bonus policy please visit http://www.nahl.com/officiating/next-shift/ Are you ready for your next shift?