Shattuck-St. Mary's, Denver East win National Championships
March 29, 2022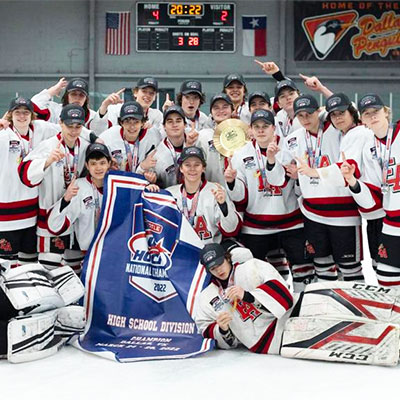 The North American Prospects Hockey League (NAPHL) would like to congratulate two of its members on recently winning a USA Hockey National Championship.
The Shattuck-St. Mary's team that competes in the NAPHL's 18U T1ER West Division captured the USA Hockey Division I High School National Championship as they defeated Stevenson (IL), 5-1 at the Comerica Center in Frisco, TX.
Even early in the Chipotle-USA Hockey High School Division I National Championship, Shattuck-St. Mary's was the acknowledged team to beat.
The team from Faribault, Minn., went wire-to-wire to win, never trailing in six games and they outscored opponents, 51-7. In Monday's championship game, the Sabres defeated Stevenson High School from Lincolnshire, Ill., 5-1.
The closest game was in Sunday's semifinals against the defending champion Springfield Rifles of Massachusetts, which tied Shattuck twice before losing, 5-3.
In the championship game, Shattuck-St. Mary's broke out to a 3-0 lead in the first period. After a second-period lull, SSM outshot Stevenson, 16-7, and scored twice more in a dominating third period.
"We really started well," first-year head coach Teddy Doherty said. "I knew we would win when we scored with three seconds left."
Ryan Embley scored the first goal on the power play 8:20 into the game. At 14:41, Kaeden Hawkins scored, and Max Morehead was the one to boost the lead just before the horn.
As good as Shattuck-St. Mary's star-studded roster had been, new stars emerged at Nationals.
"Max Morehead scored three goals during the season, and then had five here," Doherty said. "Michael Fitzgerald had 30 points during the season [in 62 games] and had 12 assists."
Fitzgerald, who assisted on the last goal in the first period, had an explanation.
"Being the final tournament as a Shattuck player, I wanted to take it day by day, shift by shift, and be spending more time with the boys."
Even in Monday's second period, when Stevenson's Maximo Poretto scored the only goal, a majority of the scoring chances had gone the way of the Sabres.
"We had trouble with the second period all year," Doherty said.
Neither team scored again until 12:31 of the third period. Ethan Skowronek took a pass from Kieran Ronan for a 4-1 lead.
"We knew they were going to come at us hard," Ronan said. "Guys were really happy to see that three change to a four."
Whatever air was in Stevenson's balloon deflated 46 seconds later with the second goal of the game for Hawkins. His 11 goals were the most by any player at High School Division I Nationals.
Four of the top five individual scorers were from Shattuck-St. Mary's. Alexander Dell led the field with 14 assists and 20 points. Hawkins was next with 18 points, Skowronek had 17 and Fitzgerald was tied for fourth with 12.
"Hawkins has been our leading scorer all year," Doherty said. "He defends our end and he's a leader."
Shattuck-St. Mary's post-season road to the national championship may have been relatively trouble-free, but the regular season was more difficult.
"The seniors have gone through some adversity," Doherty said. "We've had injuries, but guys were battling every day. It was a grind, but guys just bought in."
Denver East High School, who competes in the NAPHL's Prep Division, won the USA Hockey Division II High School National Championship as they defeated Northport Huntington (NY), 4-2 at the Children's Health StarCenter in Plano, TX.
Despite his team trailing 2-1 after two periods, Denver East Angels head coach John Kopperud wasn't worried.
In the final frame, Denver East responded with three unanswered goals, including two from Kaden Dunham, to capture the Division II title with a 4-2 win over the Northport (New York) Huntington Tigers in the 2022 Chipotle-USA Hockey High School National Championships at the Children's Health StarCenter in Plano.
Through two periods, the Angels had outshot the Tigers, 29-12, but still trailed. Denver East finished the game with a 47-18 shot advantage.
"We felt like we were in decent shape [after two periods]," Denver East head coach John Kopperud said. "It was going to come.
"We were outshooting them fairly well, and I felt we were playing better than they were. But you have to score. In the locker room between the second and third, we said keep doing what we're doing, it's going to come."
Dunham delivered all three even-strength goals for Denver, scoring just after the game's first power play ended in the second period and twice in less than three minutes in the third. He also assisted on Nicholas Chadd's empty-netter with 45 seconds left.
Colby Asheim and Benjamin Kluza each had two assists for Denver East.
Tiger goaltender Angel Spinelli turned in a true yeoman's effort, stopping 44 of the 47 shots he faced in a losing cause.
"He made us work hard," Kopperud said of Spinelli's performance. "He was really good."
Blake Hanson had a goal and an assist for Northport Huntington.
When asked about his hat trick, Dunham was quick to credit his teammates for setting the table so well that all he had to do was finish such prime opportunities.
"The hat trick means a lot but got to give credit to my line for feeding me and giving me the chance to have a hat trick in the championship game," Dunham said.
The teams played a scoreless, penalty-free first period where Denver East outshot Northport Huntington 10-4.
Despite being outshot, the Tigers had the best scoring chance of the first period when a Carmine Pittelli Jr. wrist shot from the left point rang off the far post and then off the crossbar before coming out with 2:32 remaining.
However, 5:02 into the middle frame the Tigers were first to the scoreboard when Derek Macholz took a pass from Hanson and beat Denver East goaltender Noel Friedman over his blocker to make it 1-0.
Late in the second, Denver East went on its first power play as Northport Huntington's Erik Craft was whistled for tripping with 5:11 remaining, the first penalty of the game.
Three seconds after the power play ended, Dunham drew Denver East level when he scored off a rebound.
However, the Tigers regained the lead 18 seconds later when Hanson quickly answered to make it 2-1 in favor of the visitors.
Despite trailing at intermission, no one was panicking in the Denver East room.
"We knew we just had to keep putting pucks on net," Dunham said. "Their goalie was solid, but we knew if we got rebounds and worked the puck around down low, we could get good scoring opportunities, and that's what happened."
Dunham scored his second 4:56 into the third to make it 2-2. Dunham then gave Denver East the lead for good with his third tally at 7:45 of the third. Chadd's empty netter 10 seconds after Spinelli headed to the bench iced the game and the championship for the Angels.
"It's great for the kids. We won our state tournament and that was huge," Kopperud said. "This is just sort of the cherry on top now. It's pretty cool. They're very excited."
And when asked what it means to add a national championship to the state title they won earlier, Dunham again credited his teammates.
"Yeah, it feels amazing. We won a state championship and now a national championship," Dunham said. "I couldn't have been with a better group of guys than this. It's the best group of guys I've ever asked to play with."