Kendall Hanley named new Director of Officials for NAPHL
March 9, 2022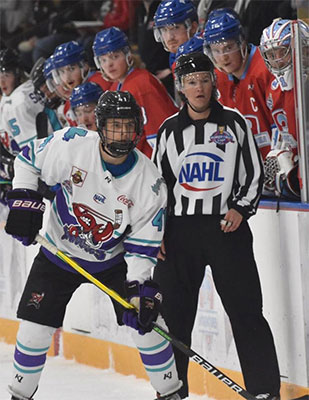 The North American Hockey League (NAHL) is pleased to announce that Kendall Hanley has been hired as the full-time Manager of Officiating of the NAHL.
Hanley will assist and work directly with Director of Officiating Keith Kaval in recruiting new officials, developing new and existing officials, and will serve as the Director of Officials of the NAPHL.
"This is an exciting addition for our leagues. Some of Kendall's first experiences in officiating were in the NAPHL, so she has been a part of our family for a long time. She is well organized, detail-oriented, professional, and a tenacious competitor, which is all a big part of her success as an on-ice official. We are excited to add someone of her caliber and experience to our growing officiating staff to help meet the demands of recruiting and training some of the best officials in the country," said NAHL Commissioner and President Mark Frankenfeld. "This is an exciting step for the NAPHL and its members. The league has grown to such a high level that the addition of someone like Kendall was necessary to ensure that we are doing everything in our power to make sure that the officiating on the ice at NAPHL games keeps up with the level of play and competition."
Hanley's primary objective as the Manger of Officiating will be to help educate, develop, and grow the pool of officials for the NAHL. She will be utilizing the NAPHL, NA3HL, and NAHL Combines to identify, recruit, train, and develop officials to work in the NAHL family of leagues. This includes the recruitment of officials who have a background in the sport and who have a desire to stay involved once their playing careers have ended.
Entering its 14th season, the NAPHL is one of the premier youth hockey leagues under the USA Hockey umbrella. Hanley will communicate directly with local and regional officiating directors to schedule officials for NAPHL events, in addition to coordinating supervisors to attend the events who will evaluate and provide feedback to the on-ice officials.
"The support and development I received in the NAHL, NA3HL, and NAPHL was crucial to my growth as an official. I'm passionate about great supervision and the role it plays in development, and I am thankful for this opportunity to share my knowledge and experience to help the next generation of officials and give back to this sport that has given me so much," stated Hanley.
Hanley currently resides in Minnesota and in her fourteen-year officiating career has officiated games at the local, district, national, professional, and international level. Her national experience spans NCAA DI and DIII (WCHA. MIAC, WIAC), Junior leagues (USHL, NAHL) and men's and women's professional hockey leagues (AHL, CWHL, PHF, PWHPA). On the international side, Hanley has officiated numerous tournaments around the world for the International Ice Hockey Federation (IIHF), including the 2019 U18 Women's World Championship in Slovakia, the 2021 Women's World Championship in Canada, and most recently the Women's Ice Hockey tournament at the 2022 Winter Olympic Games in Beijing, China where she also selected to work the Gold Medal Game.
Hanley has broken down numerous barriers for women in the officiating world. She was the first woman to work at the NAHL's Robertson Cup Championship, in addition to two NAHL Top Prospects Tournaments (2021, 2019). She was one of the first four female officials to work at an NHL Prospect Tournament (2019, Traverse City, Michigan), and was also selected to work the 2021 NHL Prospect Tournament in Tampa Bay. In December, she became the first female to officiate a professional hockey game in Wisconsin, as part of the AHL's first class of 10 female officials. She was the first woman to earn the 2021 Ben Allison Award, given annually to an official in the USA Hockey Officiating Developmental Program.
A Raleigh, North Carolina native, Hanley found her passion for officiating after her completing her four-year NCAA playing career for the Elmira College Soaring Eagles and Oswego State Lakers.