Janesville defenseman Mell makes NCAA DI commitment
February 25, 2022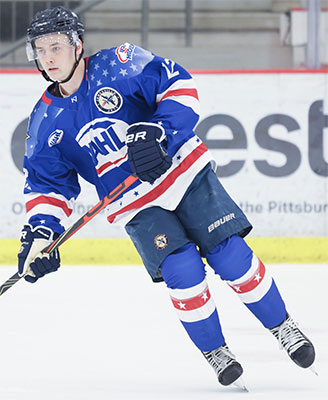 The Janesville Jets, proud members of the North American Hockey League (NAHL), are pleased to announce that captain and Top Prospects defenseman Cal Mell has committed to play NCAA Division I hockey for the Union College Dutchmen of ECAC Hockey.
"It feels very rewarding to get this accomplishment, and I'm greatly excited," said Jets captain Cal Mell. "One of the main goals you come into junior hockey with is to get that Division I commitment. It took me almost two years," said Mell with a smile and a laugh. "I came into Janesville and started at the bottom and worked my way up. It's a great feeling."
Mell started playing hockey with the Atlanta Fire U16 team in AA hockey in 2017-18. That same year, he transitioned into the NAHL branch and played in the NAPHL's Elite Hockey Academy team. He played in 15 total NAPHL games, which included playing in the 2017-18 NAPHL 16U All-Star Game.
The 2020-21 season was Mell's return to the NAHL program when he joined the Janesville Jets. Of course, that season was a strange one in the NAHL due to the COVID-19 pandemic, but Mell made the most of it in his 34 games. He was also selected to and played in the 2021 NAHL Top Prospects Tournament in June in Blaine, MN.
Now in his second and final year in the league, Mell was named captain of the Jets earlier this season and has become one of the known defensemen in the league. His leadership skills, ability on the ice, and positive demeanor in that abbreviated first year helped him become the one with the "C" patch on his sweater and also helped with his contributions on the stat sheet.
In 42 games played this season, Mell has a team-leading 28 assists and two goals and ranks second in assists and total points among all defensemen in the NAHL. His +18 rating speaks to his capabilities in playmaking, as he is frequently seen creating offense with his textbook passing and great vision in the attacking zone. In true defenseman fashion, Mell often creates offense with his superb defense. Whether it's stick checking, shot-blocking, or open-ice checking, Mell's strength in the neutral and defending zones is top tier.
"We're so proud of Cal for earning this achievement and getting the opportunity to play Division I hockey," said Jets head coach Parker Burgess. "It's a good lesson to a lot of young players that everybody's path is different. Cal played in the EHL two years ago, and he comes from a non-traditional hockey market being from Georgia, and he came in as a 19-year-old. There were some growing pains, but he dedicated himself to the game. He truly invested in himself, got into tremendous shape, worked on his skills and nutrition, all these things. You see the type of year he's having; 30 points as a defenseman, plus having the responsibility as a team captain, he runs the power play, he blocks shots, he hits, he'll fight, he can score, he does just about everything. He's almost like another coach for us."
Fittingly, Mell played in this year's 2022 NAHL Top Prospects Tournament in Pittsburgh and recorded an assist in two games. While his name only appeared on the scoresheet once, Mell had a performance at the season's biggest event that had scouts watching. Like a catcher in the game of baseball, not hearing your name be talked about is sometimes a good thing. In the world of hockey, the comparison is the same. Other than atta-boy-ing a great backchecking play or a stick in a shooting lane, a defenseman's efforts are sometimes skimmed over, simply because those plays are expected. The plays from behind the net, through the neutral zone, and at the point make a defenseman noteworthy. Cal fits that bill.
"Top Prospects helped me 100%; it definitely put me on Union's radar, and I'm greatly appreciative I was able to play in the tournament," said Mell. "The tournament was run extremely well. Getting to play with top-level players and having a couple of teammates (Troutwine and Aegerter) there was great as well. I mean, two weeks after the tournament, it's unreal how that worked out."
Mell joins one Jets alum as a Union commit. Goaltender Garrett Nieto committed to play with the Dutchmen in April of 2018, a season that saw Nieto share the net with alum Daniel Lebedeff and post a 21-5-2-2 record with a 2.00 goals against average in 31 games. Nieto played two seasons with the Jets before joining the Dutchmen in the 2019-20 season.
"Union's hockey history speaks for itself, they won the National Championship not too long ago, but the academics are great too," Mell said. "Academics are a big part of my life, so with that being offered additionally at a great hockey school, you can't go wrong."
The Dutchmen won back-to-back-to-back ECAC Tournament titles in 2012, 2013, and 2014, have claimed the regular-season title four times since 2010-11, and went to the Frozen Four in 2012 and 2014.
Along with their strong conference tournament outings, Union has one NCAA National Championship title to its name, a 2014 title when it defeated the University of Minnesota.
"Cal's emotional maturity is one of the best I've seen for a young athlete," Burgess said. "He definitely deserves the opportunity to play Division I hockey, and going to Union, for him [Cal], it's a perfect match for both sides. Union is getting a great player, and Cal is going to a great program. His teammates are really excited for him, and the coaching staff is really excited for him. It's pretty awesome."
"We're all about development here in Janesville, we have a bunch of young guys here we want to develop, so it's worked out nice with the strong experience of the veterans paired with some up and comers," said Mell. "Coming to Janesville was a small change being from a bigger city, but my billets have been awesome, it's my second year with them, and you can't ask for anything better than them. The program, the city, it's all been great, and I'm excited for what's next."
Click here for an updated NAHL to NCAA commitment list