CarShield, NJ Titans, and Esmark bring home Championships
January 31, 2022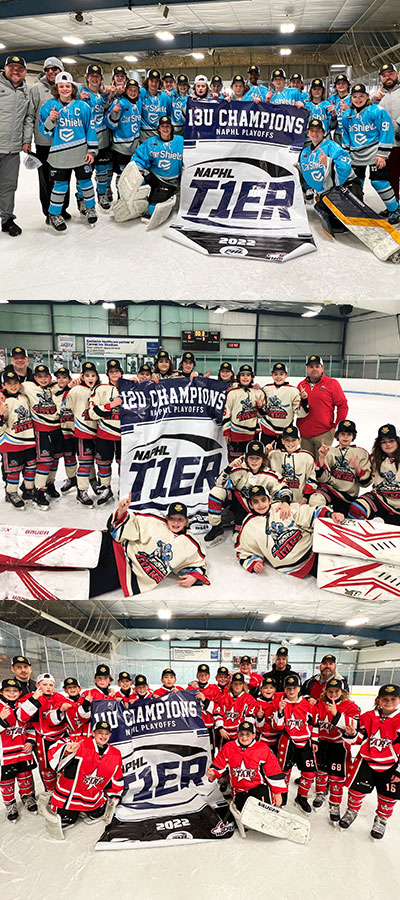 The North American Prospects Hockey League (NAPHL) concluded its T1ER League Playoffs and Championship on Sunday, January 30th in Indianapolis, Indiana with the first ever event and Championship at the 11, 12, and 13U age groups.
Day 3 recaps
13U Division: CarShield AAA goaltender Nathan Arnold posted a 28 shot shutout against the Tri-State Spartans for a 3-0 win. Indy Jr. Fuel goalie Gavin Slovis earned a 27 shot shutout against the Arizona Bobcats in a 7-0 win. Indy forwards Braden Rubin and Nolan Doup both netted two goals and added an assist. In the T1ER 13U Championship game, CarShield AAA faced Indy Jr. Fuel. CarShield took a 3-2 lead in the first period, but Indy answered back in the middle frame adding two goals for a 4-3 score. In the third period, CarShield found the back of the net 4 times to take a 7-4 win and the T1ER 13U Championship title.
12U Division: Indy Jr. Fuel goaltender Sullivan Harmeyer posted a 12 shot shutout against Carolina Premier Hockey, 8-0. In a back and forth game, the Esmark Stars defeated the Jersey Whalers 8-7. With less than a minute in with the scored tied 7-7, Stars forward Christopher Sargo scored getting the win for Esmark. Biggby Coffee netminder Matthew Steinour posted a 23 shot shutout in a 1-0 win over the Northest Stars. The Arizona Bobcats faced the New Jersey Jr. Titans in the T1ER 12U Championship game. After being tied 2-2 heading into the third period, Arizona put two goals on the board and New Jersey added four goals to take a 6-4 win. Strider Carhart recorded a hat-trick in the Championship win for the Titans.
11U Division: CarShield AAA took a 10-2 win against the Jersey Whalers. CarShield's Braeden Winnick scored a hat-trick in the game. In the T1ER 11U Championship game, CarShield AAA took on the Esmark Stars. In the first period both teams were tied 1-1 until Esmark opened up the scoring in the second frame to take a 6-2 lead. In the third, CarShield added two more goals, but Esmark held on for a final score of 6-4 winning the 11U Championship.