T1ER Playoffs begin Friday in Indianapolis
January 27, 2022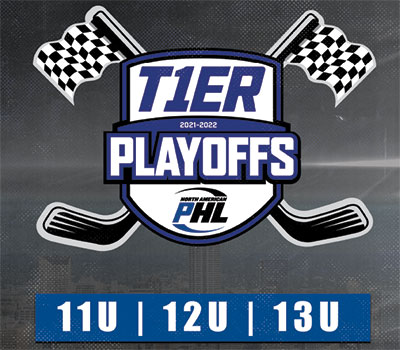 The North American Prospects Hockey League (NAPHL) begins its T1ER League Playoffs and Championship on Friday, January 28th in Indianapolis, Indiana with the first ever event and Championship at the 11, 12, and 13U age groups.
This is an exciting step for the NAPHL as events have now expanded to include some of the younger players who have not had the opportunity to experience the NAPHL until now. This weekend's playoffs be a great eye-opener for players, teams, and parents, who will get a first-hand experience of what an NAPHL event is like.
Games will primarily be played at the Carmel Ice Skadium and also the Fuel Tank in Fishers.
There will be Playoff Champions crowned in the 11, 12, and 13U age groups.
Founded in 2009 and celebrating its 13th season in 2021-22, the North American Prospects Hockey League (NAPHL) is the NAPHL is the premier training ground for development, exposure, and opportunity. During the 2021-22 season, the NAPHL will be made up of four different leagues: Tier 1, Fall, Showcase (Tier II), and Prep (High School).
The NAPHL has proved over the years that the league is a great stepping-stone for development and training for young hockey players looking to gain experience and knowledge to work their way up to the National level. No other USA Hockey Midget Tier I league has had more players play in the NAHL over the course of the last three seasons than the NAPHL.
Important Links