NAPHL alum Mayo scores in NHL debut
October 26, 2021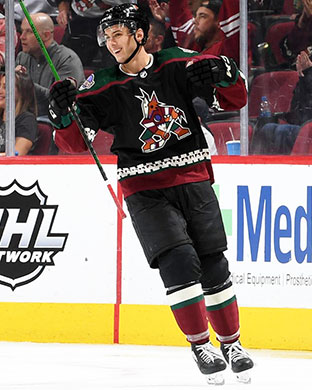 The result wasn't a victory, but former NAPHL and Arizona Coyotes defenseman Dysin Mayo enjoyed a moment he'll never forget. A former fifth-round draft pick (133rd overall) in 2014, Mayo made his NHL debut on October 21st and potted the lone Coyotes goal.
The blueliner joined the Coyotes earlier in the week having 258 AHL games and 25 ECHL games to his name. He made the most of his first crack in the National Hockey League by becoming just the eighth defenseman in franchise history to light the lamp in his inaugural game at the highest level.
"He is a really nice young man who works really hard and is a warrior," said Head Coach André Tourigny. "Everybody cheers for him. He is the kind of guy that you want to have success. He had a scoring chance early in the game and obviously had his goal in the third period, so I'm happy for him."
Mayo's goal just 1:25 into the third period gave Arizona a spark, but it would not ignite a rally. Edmonton took advantage of two power-play opportunities and extended its lead to 5-1 before the final buzzer.
Mayo was originally drafted by the Coyotes in the fifth round (133rd overall) in the 2014 NHL Entry Draft.
Mayo spent the 2011-12 season with the Pursuit of Excellence 18U team in the NAPHL, where he recorded four points in 17 regular season games.