Saturday sees plenty of offense and scoring on Day 2 in Minnesota
October 17, 2021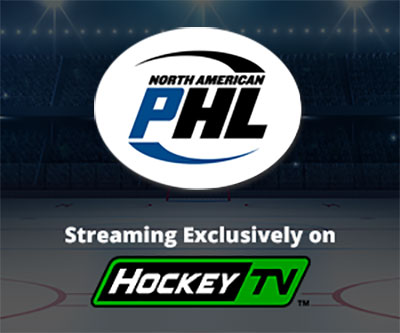 On Saturday, October 16th the NAPHL continued its fourth event of the 2021-22 season as the Showcase League continued play in its first event of the season, while action began in the FALL League Playoffs and T1ER West Conference teams also began play.
The event runs from October 15-18.
The October event in Blaine will feature three of the NAPHL's different leagues as the T1ER, FALL, and SHOW are all in action.
For the FALL League, this will be their third and final event as they will have their 2021 Playoffs. Each team in the 18U and 16U Divisions will play three round-robin games. The winners of each if the two pools will face-off in a winner-take-all Championship.
The T1ER League will continue its play with the Western Conference 18U and 16U teams coming to play for play in four regular season games. So far, each Western Conference team has played in eight games to date.
The NAPHL's Showcase League (SHOW) will make their 2021-22 season debut in October in Blaine. The SHOW is for Tier I and Tier II teams from all over North America looking to showcase their players at NAPHL events. It includes teams from some of the strongest Tier II leagues in the United States like the CSDHL. The Blaine event is the first of three for the SHOW League.
Helpful Showcase Links:
Arenas (Super Rink - Richfield Ice Arena - Fogerty Ice Arena)
Day 2 Recaps
18U Division: 18U teams from around the NAPHL joined the fray on Saturday, with a loaded 39-game slate for Showcase and Fall League teams.
West Dundee got things started with a 3-1 win over Anaheim, before Orland Park and Littleton both won big over Big Sky and Tri-State AA. Mission Arizona netted three straight goals for a 3-1 win over the St. Louis Sting, and the Texas Tigers rode a Cameron Constantino hat-trick to a 6-0 shutout of the Gurnee Vipers. Elsewhere, the Chicago Bruins raced out to a 2-0 lead early in their tilt with Cherry Creek before holding on for a 4-3 win, Tri-Valley knocked off the Chicago Hawks 6-4, Highland Park flexed its muscle in a 9-1 win over the Columbus Thunderbirds, Philadelphia AA cruised past Arizona Hockey Union for a 7-2 win and the Chicago Jets tallied three in the first two periods en route to a 3-0 shutout over New Mexico. Naperville opened the mid-day slate with a whopping 11-0 shutout of El Paso, despite Rhinos goalie William Maddox posting an eye-popping 79 saves, while the Dallas Penguins walloped Monument 7-2, the Northwest Chargers knocked off Clearwater 4-1, Chesterfield topped Ogden 5-2 with four in the final 40 minutes and Affton dealt PHA Icemen a 5-2 defeat.
As Fall League play got underway, the Magicians were in fine form during a 9-0 rout of the Brahmas, Austin edged out Janesville 4-3 with two goals in the third, Fairbanks strolled past the Wilderness 6-2 and Chippewa need three in the final frame for a 5-2 win over Kenai River.
Back in Showcase play, Highland Park again showed its strength to drop Philadelphia 7-2, as the Dallas Penguins took down Naperville 4-2, Tri-State nabbed a 2-1 comeback win over the Chicago Hawks, Chesterfield scored twice late to pull away from Monument in a 4-1 win and the Texas Tigers tallied a big second period to topple the Chicago Bruins 7-3. Later on, Littleton dealt El Paso an 11-0 defeat, Anaheim capitalized on a fast start to beat Orland Park 6-3 and the Affton Americans and St. Louis Sting each blanked the competition with respective shutout wins over Big Sky and Ogden. Closing things out on Saturday, Cherry Creek struck twice in the third to top the Columbus Thunderbirds 3-2, West Dundee made it 2-for-2 on the day with a. 4-3 win against Tri-Valley, Clearwater bounced back with a 4-3 win over Mission Arizona, Northwest won a 7-6 barnburner over New Mexico as Lucas D'Angelo scored four and the Chicago Jets put a lid on things with a late flurry to knock off Arizona Hockey Union 3-1.
16U Division: Saturday opened with Fall League action in 16U play, with 28 games spanning the entire 16U schedule on day two. Austin, Minnesota Magicians and Fairbanks each picked up early wins in the Fall League as the title race heats up, while Ontario topped Arizona 3-1, Tahoe ousted the Northwest Stars 7-2 and West Coast edged out Madison 5-3 in T1ER play.
Over in the Showcase Division, the Chicago Jets rolled over Mission Arizona 4-0, Naperville held off Gulf Coast for a 2-1 win, Gurnee shut down the Dallas Penguins for a 3-0 win and Highland Park continued to roll with a 9-2 win over Bakersfield. From there, Affton thumped Jersey Shore 8-2 and St. Louis Sting tallied twice late for a 3-2 win over the Bobcats, as Geneva shut out Monument 3-0 and PHA Icemen took a 9-5 win over Arizona Hockey Union in a high-scoring affair. Orland Park then showed its strength to top Clearwater Blue 4-0, and Anaheim took down Littleton 3-2 in OT as Matteo Johnson netted the winner. The Northwest Chargers brought more OT action in a 2-1 win over the Columbus Thunderbirds, while West Dundee netted three unanswered to knock off New Jersey 4-1 and the Chicago Bruins dominated Indy in a 6-0 shutout. Janesville picked up a big 7-3 win over Park City as well, and the Texas Tigers toppled the Chicago Hawks 4-3 in overtime. New Mexico, Anaheim and Atlanta each won to finish off the Showcase Division action on Saturday, handling Clearwater White, Big Sky and the Brahmas, respectively. In the Fall League, Janesville took a 4-3 OT win over the Wilderness, while Austin eased past Chippewa 7-2 and the Magicians hammered Fairbanks 5-1.
14U Division: The 14U division carried the offensive flair into day two. Naperville opened the day with a bang, knocking off Big Sky 12-0. Highland Park and the St. Louis Sting then picked up back-to-back 5-2 wins over Portland and Littleton, respectively, before Northwest shut down the Columbus Vikings 6-0.
The St. Louis Eagles continued their strong start with a 7-1 win over Atlanta before the Chicago Jets erupted for a 17-0 shutout of East Coast and the Chicago Hawks ousted Park City 4-1. Orland Park kicked off the afternoon slate with a 10-1 steamrolling of the Arizona Bobcats; meanwhile, West Dundee won a 4-3 thriller over PHA Icemen and Vegas held off the Gurnee Vipers 4-2. Capping off the day, the Chicago Blues were unstoppable against El Paso, notching a 19-0 win, while the St. Louis Knights knocked off Arizona Hockey Union 3-1 and the Chicago Bruins tallied once in each period to notch a 3-1 win of their own over Gulf Coast.