Colorado Springs 16U head coach Schlie takes position in NAHL
August 30, 2021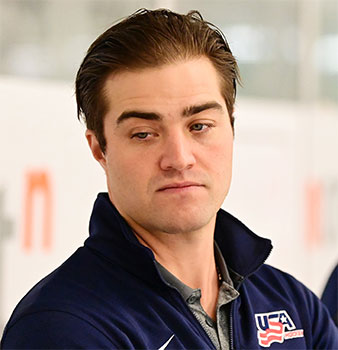 The Colorado Springs Tigers of the NAPHL are happy to announce that U16 Head Coach Eric Schlie has accepted an assistant coaching position with the St. Cloud Norsemen of the North American Hockey League (NAHL).
Coach Schlie was entering his second season as the Tigers U16 Head Coach in Colorado Springs, CO.
"I am very excited and supportive for Eric and the opportunity he has in the NAHL," stated Tigers Tier 1 Director Kevin Holmstrom. "Eric has gained valuable experience as a head coach as well as proven to be a good recruiter the last two summers both of which will serve the Norsemen very well. He has worked diligently with the Tigers and USA Hockey to broaden his knowledge as he pursues his goals of coaching at the highest levels. Eric has really done a great job of understanding the Tigers culture and setting a great foundation for this year's success while recruiting great young men and families that will have a successful season. This is another example of the NAPHL's Ladder of Development and we thank Eric for all of his efforts and wish him the very best."
"I want to thank the Colorado Springs Tigers organization and specifically Tier 1 Director Kevin Holmstrom for their support over the past two seasons," stated Schlie. "The opportunity they gave me allowed me to develop as a coach on and off the ice. The Tiger culture is a strong one, led by great leadership, and I will continue to implement the lessons I learned as I continue to progress as a coach. It is bittersweet as I am leaving behind 20 great dedicated young men but I am excited for the opportunity that lies ahead with the St. Cloud Norsemen."
The Littleton, Colorado native grew up playing Tier II hockey for Front Range Amateur Hockey Association, before advancing to play at the Tier I hockey for the Colorado Thunderbirds.
Following his youth hockey career, Eric attended the University of Colorado at Boulder, receiving his B.A. in Psychology, while playing for the University of Colorado ACHA Div. I team.
Coach Schlie is incredibly passionate about coaching, having ten plus years of coaching experience with local youth hockey programs including the Arapahoe Youth Hockey Association, Foothills Hockey Association, Colorado Select Girls Hockey Association and the Boulder Hockey Club. He has coached players from U8 to U18 age group and from recreational to the Tier I level and includes a stint as the Assistant Director/Director of Player Development for Boulder Hockey Club.
Eric is a staff coach for the annual summer USA Hockey Select 16 Development Camps and the USA Hockey U14 Western Regional Development Camps. In 2016 he worked the USA Hockey U15 Girls Development Camp.