NAPHL sets another record of NAHL tenders and draft picks
July 20, 2021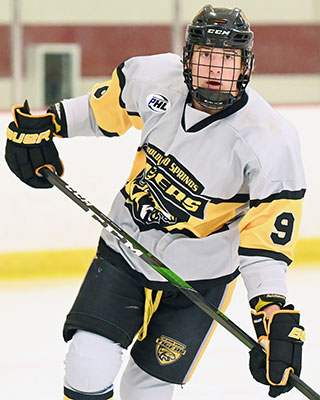 The North American Prospects Hockey League (NAPHL) is pleased to announce 24 current or former players were selected in the 2021 North American Hockey League (NAHL) Draft, which was held on Wednesday, July 14th.
In addition to the 24 players who were drafted, a record number of 65 players who played in the league during the 2020-21 season signed NAHL tenders for the upcoming 2021-22 season.
In total, a record-breaking total of 89 NAPHL players were either drafted or tendered by NAHL teams for the upcoming 2020-21 season.
The NAPHL has proved over the years that the league is a great stepping-stone for development and training for young hockey players looking to gain experience and knowledge to work their way up to the National level. No other USA Hockey Midget Tier I league has had more players play in the NAHL over the course of the last three seasons than the NAPHL, which included over 80+ NAPHL alumni playing in the NAHL during the 2020-21 season.
"As we enter our 13th season, the benefits of the NAHL's ladder of development exposure model that is exclusive to the NAPHL has never been stronger or more prevalent. NAHL teams are seeing these players multiple times throughout a season and their selections are based on in-person scouting at NAPHL events ," said NAPHL Director Tony Zasowski. "In addition, the NAPHL players have benefitted from attending NAHL Combines, NAHL team pre-draft tryout camps, and the addition of the Fall League have all added to the exposure opportunities. No other youth league in USA Hockey has a model like it and these results are one of the byproducts of the system."
No other USA Hockey youth league does more for its players than the NAPHL. Operated by the full-time staff of the North American Hockey League (NAHL), who make it their mission to outperform others both on and off the ice in promoting its players. NAPHL players are recognized on the league's website and social media outlets, which receive millions of pageviews and social media engagements annually. This also includes broadcasts and play-by-play of every game on HockeyTV, highlights from every game on social media, monthly and yearly award recognition, feature stories, and real-time statistics.
Members of the NAPHL get the opportunity to attend some of the most dynamic and highly scouted events. Selected NAPHL events take place during the same time as NAHL events, which usually feature every NCAA Division 1 and every NHL team along with dozens of junior scouts under one roof. No matter what age classification you compete, the NAPHL provides the most dynamic vertical exposure structure designed specifically to educate, develop, expose and advance players in the NAPHL.
Final list of 2021-22 NAPHL tenders
NAPHL players selected in 2021 NAHL Draft (by order of selection)
Reid Pabich, F, Minot Minotauros, Round 1, #15 (Madison Capitols 18U/16U, 2016-18)
Marc Fletemeyer, D, Chippewa Steel, Round 2, #41 (Colorado Springs Tigers 18U/16U, 2018-21)
Justin Chaput, D, Fairbanks Ice Dogs, Round 3, #63, (Shattuck-St. Mary's 18U, 2019-20)
Aiden VanRooyan, D, Bismarck Bobcats, Round 3, #64 (Sioux Falls Power 16U, 2019-20)
Tyler Sanborn, D, New Jersey Titans, Round 3, #78 (Omaha AAA 15U, 2017-18)
Reed Kluender, D, New Mexico Ice Wolves, Round 4, #98 (Chippewa Steel 16U, 2020-21)
Micah Berger, F, Minot Minotauros, Round 5, #131 (Florida Alliance 16U, 2019-20)
Ben Rutkai, D, Corpus Christi IceRays, Round 6, #150 (Anaheim Jr. Ducks 16U, 2018-19)
Carter Bradley, D, Springfield Jr. Blues, Round 6, #151 (CarShield AAA 15U, 2018-19)
Jayden Price, F, Amarillo Wranglers, Round 7, #177 (Shattuck-St. Mary's 18U, 2017-18)
Payton Felix, F, Northeast Generals, Round 8, #212 (Northeast Generals 18U, 2019-20)
Lyncoln Bielenberg-Howarth, F, Jamestown Rebels, Round 9, #236 (Madison Capitols 16U, 2018-19)
Liam Gross, G, Johnstown Tomahawks, Round 9, #260 (Philadelphia Little Flyers 18U (2019-21)
Hunter Schmitz, F, Anchorage Wolverines, Round 10, #263 (CarShield AAA 18U (2018-20)
Connor Brazil, F, Amarillo Wranglers, Round 10, #264 (Gentry 16U, 2019-20/Arizona Bobcats 14U, 2017-18)
Milan Cermak, F, Johnstown Tomahawks, Round 10, #267 (Esmark Stars 16U, 2017-18)
Noah Decker, F, Minnesota Wilderness, Round 10, #277 (Rocky Mountain Roughriders, 2016-20)
Christian King, D, Anchorage Wolverines, Round 11, #292 (Alaska Oilers 16U, 2018-19)
Alec Hamady, F, Amarillo Wranglers, Round 11, #293 (MHA Mudbugs, 2019-21)
Matthew Cole, F, Jamestown Rebels, Round 12, #323 (Meijer AAA 16U, 2018-19)
Mason Mara, F, Lone Star Brahmas, Round 12, #345 (Florida Alliance 16U, 2018-19)
Preston Brighton, D, Johnstown Tomahawks, Round 12, #347 (Meijer AAA 16U, 2018-19)
Johnny McCollum, D, Amarillo Wranglers, Round 14, #380 (Thunder Bay Kings 15U, 2018-19)
Hunter Fairman, F, Johnstown Tomahawks, Round 16, #463 (Esmark Stars 18U/16U, 2019-21)