Nationals Spotlight: CarShield AAA
April 26, 2021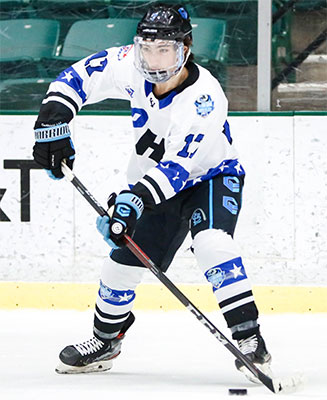 Our first NAPHL team profiled for the 2021 USA Hockey Tier 1 National Championships is CarShield AAA hockey.
The CarShield AAA 18U team advanced to USA Hockey Nationals thanks to a 6-3 win over Team Wisconsin to capture the Central District Regional title and earn the auto bid.
What is most notable however for the CarShield program is the number of events and games the organization participated in and continued to provide their players the maximum amount of exposure in order to get to this point.
The CarShield AAA 18U team played in 29 NAPHL games this past season, which led the league. They also currently have five players that have signed North American Hockey League (NAHL) tenders for the 2021-22 season. In the Dixon Cup, they went through the round-robin before falling to Esmark in the Quarterfinals, 2-1.
"These young men are to be commended on how diligent and cautious they have been as teenagers away from the rink to ensure we get the most of our season during this horrible pandemic. These kids are not only focusing on their own individual development and success but are equally focused on the success of all their teammates, that will be the vehicle that drives the overall success of this group at the end," said CarShield AAA Hockey Director and 18U head coach JP Beilsten.
CarShield will be tested in their pool at Nationals, which features two prominent prep schools and one former NAPHL organization. They will have the advantage of playing in their own backyard and staying at home during the event.
CarShield AAA Nationals Schedule
April 28 vs. Culver, 12:45pm
April 29 vs. Sioux Falls Power, 10:15am
April 30 vs. Shattuck-St. Mary's, 6pm
CarShield's leading scorer during the NAPHL season was defenseman Brett Robinson, who is tendered by the NAHL's Minnesota Wilderness. Robinson was an All-NAPHL 18U Central Division selection and was 2nd among all NAPHL 18U defensemen in scoring.
Defenseman Jack Anderson, who is tendered by the NAHL's El Paso Rhinos, adds some much needed depth and scoring along the blueline.
Up front, Coby Weber, who in tendered by the Springfield Jr. Blues, brings scoring and experience. Tyler Cullenton led the team in goals during the NAPHL season and Jackson Kerich (Anchorage Wolverwines tender) brings some production and size as well. Nolan Kahl and Hunter Parker will also be looked upon to have success.
However, it may be the goaltending of Springfield Jr. Blues tender Matthew Smith that may dictate how far CarShield goes in the event. When Smith is on, he has proven to be one of the top goalies in the NAPHL. He led the NAPHL in wins with 13 and had a very good .919 save percentage.