NAPHL St. Louis Invitational Champions crowned
March 29, 2021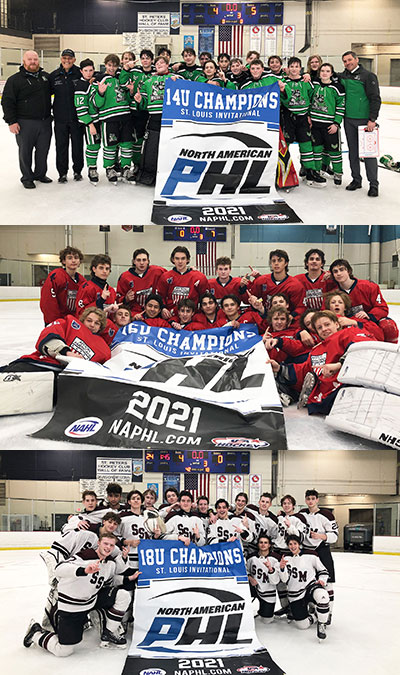 18U Division: Sunday saw Shattuck St. Mary's and Affton duel for the championship, a matchup that Shattuck comfortably won by a 4-0 margin. Nikolai Galaguzov scored twice and Daniel Crowe turned aside all 18 shots that came his way to help their team keep a perfect record at this weekend's event.
Elsewhere, Chicago closed out its weekend with a 4-2 win over Delta, riding a three-goal second period to a consolation victory.
16U Division: In 16U championship action, Affton handily beat Atlanta 7-0 to take the title. Mason Skaggs scored twice and Maksim Bely picked up the shutout as the Americans romped to a perfect run at the St. Louis Invitational.
In consolation play, Riku Takishima tallied the lone goal of the game to help the Anaheim Jr. Ducks past Nashville. The Anaheim Ice Dogs jumped out to an early lead against the Southern Revs, then pulled away with three goals in the second period for a 4-1 win. Finally, New Mexico's Collin Mohr scored twice -- including netting the game-winner -- to help his team knock off Vegas 3-1.
14U Division: The 14U championship tilt was a classic between the Atlanta Madhatters and Chicago Hawks. Atlanta raced out to a 4-0 lead through the first period, taking control of the game and the championship. But the Hawks, led by TJ Stroker's two goals, roared back, netting three in the second period and the tying tally midway through the third, sending the game seemingly toward overtime. But with under a second remaining on the clock, Atlanta's Paul Marshall barrelled in alone on Chicago's Jace Knoerle in net and scored with 0.1 seconds on the clock to give the Madhatters a thrilling 5-4 victory.
In an earlier game, Chicago emerged victorious over St. Louis, with Dmitry Tolstov and Daniel Cook each scoring twice in a 6-3 win for the Hawks. Later on, Atlanta rode Matai Dothard's lone strike and an 18-save shutout from Devin Diller to a 1-0 win over Nashville, setting the stage for Atlanta and Chicago's remarkable championship performance. Consolation action saw Des Moines steamroll New Mexico 8-0 behind two-goal efforts from Sean Bowser and Clark Malachi, as well as a 17-save shutout from Jackson Fleming.