Standings bunched at the top after Day 1 in St. Louis
March 27, 2021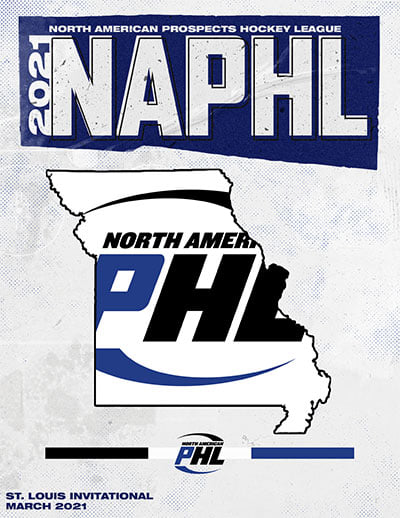 The new NAPHL Spring event of the 2020-21 season, which takes place from March 26-28 at the St. Peters Rec Plex in St. Louis, Missouri, faced off on Friday as teams from the 18U, 16U, and 14U levels took to the ice.
The new invitational event in St. Louis is an extension of the 2020-21 NAPHL season that is designed to assist and provide open competition for all Tier II youth teams that are preparing and getting ready for state, district, and national tournaments.
For those who will not be attending, all NAPHL games will be broadcast live on HockeyTV. Note... the NAPHL is part of the ELITE package.
Download the NAHL App to keep up to date with NAPHL scores (iOS - Google Play)
Day 1 Recaps
18U Division: Four games got underway at the 18U level in St. Louis on Friday.
Omaha opened the day with a 3-1 win over Chicago, tallying in each period to hold off the Hawks. Shattuck St. Mary's flexed some muscle to knock off Delta, as Hudson Norris' hat-trick paced a 7-2 win.
Later on, Delta bounced back to knock off Affton 4-1 behind a pair of Anthony Alvarado goals, and Shattuck St. Mary's continued to roll with an 8-1 win over Omaha as Kieran Ronan struck twice.
16U Division: In 16U play, teams hit the ice for four games as well on Friday.
Affton got off to a flying start, hammering Nashville 7-0 behind two-goal efforts from Nolan Kelsey and Mike Gakhutishvili and a 21-save shutout from Sam Schmidt, while Anaheim rode a three-goal second period to a 4-2 win over Vegas.
Atlanta put forth a balanced effort with a goal in each period to oust the Southern Revs 3-1, and Anaheim capped off the day with a second victory, knocking off New Mexico on the strength of Rocky Hamaker's second-period game-winner.
14U Division: The 14U squads were busiest on day one, with six contests on the slate.
Things kicked off with St. Louis outlasting Atlanta for a 4-3 win, netting three unanswered goals in the second period and a late game-winner in the third after the Madhatters staged a comeback. Chicago was in fine form in a rampant 9-0 win over New Mexico, highlighted by four goals from Daniel Cook and an 11-save shutout from Joey Conrad. Nashville sealed up the rest of the early games with a 4-2 victory over Des Moines, thanks to a run of three consecutive tallies in a 10-minute span.
The second round of games started off with a back-and-forth 4-3 shootout thriller between Nashville and Atlanta that went the Flyers' way thanks to Isaac Rice's shootout heroics. The day ended with back-to-back blowouts — St. Louis rattled off runs of five and four consecutive goals in a 9-1 win over New Mexico, and Chicago's Joey Conrad (15 saves), Gavin Powels (3g) and Bobby Barrett (2g) led their team to a 10-0 romp past Des Moines to put a stamp on day one.