NAPHL Spring event ready to go in St. Louis
March 25, 2021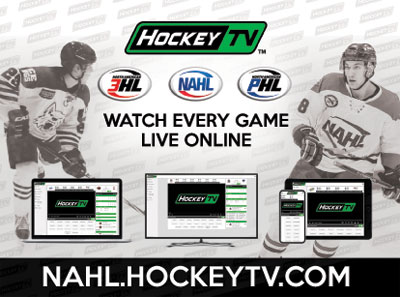 Welcome to the new NAPHL Spring event of the 2020-21 season, which takes place from March 26-28 at the St. Peters Rec Plex in St. Louis, Missouri. We are very excited about this new event, which is new to the NAPHL this season.
This weekend features competition in the 18U, 16U, and 14U levels. The new invitational event in St. Louis is an extension of the 2020-21 NAPHL season that is designed to assist and provide open competition for all Tier II youth teams that are preparing and getting ready for state, district, and national tournaments.
Now in its 12th season, no other USA Hockey youth league does more for its players than the NAPHL. Operated by the full-time staff of the North American Hockey League (NAHL), who make it their mission to outperform others both on and off the ice in promoting its players. The NAPHL has proved over the years that the league is a great stepping-stone for development and training for young hockey players looking to gain experience and knowledge to work their way up to the National level.
If you are attending the event this weekend, there are several reminders and policies that are designed to keep everyone safe and on the ice:
RINK GUIDELINES
Masks are very strongly encouraged at all times
Please maintain social distance at all times & do not gather in groups in any areas
Concessions will be open limitedly each day at the South Arena ONLY
Hand sanitizer stations have been posted throughout the building
Staff will continue to sanitized high touch point areas throughout the day
HOCKEY OPERATIONS
Two (2) spectators per player are permitted to enter the building at game time
Masks are to be worn at all times in spaces where social distancing cannot be maintained
Skaters may arrive NO MORE than 30 minutes prior to ice rental/game start time
Locker room use is allowed but limited to 30 min prior to start time and 30 min after end time (all teams are given 1 locker room space) masks must be worn at all times if more than 9 skaters are using space
If locker room doors are to be shut masks, must be worn
Chairs can be added outside of locker rooms in hallway for more skaters
NO SHOWERS will be allowed
Water fountain usage is prohibited; players/teams need to provide their own hydration sources
No postgame handshakes involving players, coaches or officials.
For those who will not be attending, all NAPHL games will be broadcast live on HockeyTV. Note... the NAPHL is part of the ELITE package.
Download the NAHL App to keep up to date with NAPHL scores (iOS - Google Play)