Indy Jr. Fuel announces new coaching staff
March 19, 2021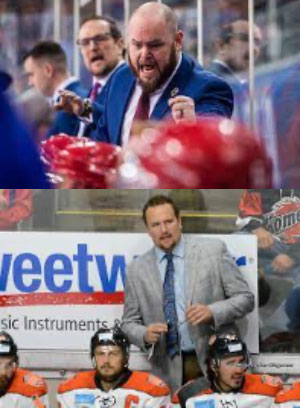 The Indy Jr. Fuel of the North American Prospects Hockey League (NAPHL) are thrilled to announce the hiring of the two highest level hockey coaches ever born in the state of Indiana. Fort Wayne native and former Komets Head Coach Gary Graham will be taking over Jr Fuel 18U AAA. Gary's high school hockey teammate and former ECHL, SPHL and CHL Head Coach Brian Gratz will lead our 16U AAA team in 2021-22.
Coach Graham comes full circle back to the place where his coaching career started in 2008-2009 as an assistant coach with the USHL Indiana Ice and Head Coach of the Jr Ice 18U AAA team. Throughout his 15+ years of professional coaching, Gary has been a part of the coaching staff that won the USHL Clark Cup, IHL Turner Cup, CHL and SPHL championships. He has spent the majority of his coaching career as Head Coach of his hometown Fort Wayne Komets of the ECHL. Fuel fans will be relieved to have him on our side after a pro coaching record of 251-130-51 and boasting a .59 winning percentage in the most competitive AA minor hockey league in the world. Gary spent the 2019-2020 season in Beijing as Head Coach of ORG Beijing that competes in the Russian pro league while also helping build the Chinese National team that will compete in the 2022 Winter Olympics.
Gary's resume speaks for itself. To reach the level that he has as a coach, being born and raised in Indiana and not having played competitively after high school, shows his absolute commitment to the profession and unparalleled understanding of the game and how to teach it.
Coach Gratz will take the reins of Jr Fuel 16U AAA after spending the 2020-2021 season as an Assistant Coach of the Trine University NCAA D3 hockey team. Brian's coaching resume is equally impressive for a born and raised Hoosier.
After a playing career as a goaltender with multiple national championships for Penn State and stops in the ECHL and AHL, Coach Gratz began in the ECHL as an assistant with the Reading Royals. He went on to be a Head Coach at numerous levels of pro hockey. He spent three years in the CHL as Head Coach and GM of the Dayton Gems and Bloomington Blaze. He was a part of the transition to the SPHL in the same role with the Bloomington Thunder.
After his time in Central Illinois, he got his break in the ECHL as an assistant with Greenville. From 2015 to 2018, Brian led the Swamp Rabbits as Head Coach and Director of Hockey Operations setting two franchise records for the best regular season record and longest winning streak in franchise history.
After Greenville, Brian joined Coach Graham in Beijing as Assistant Coach. His primary duties were working with the team's forwards and goaltenders. When the 2019-2020 season was cut short due to the COVID pandemic, Coach Gratz came home to Indiana and joined the Trine University NCAA division 3 staff as assistant coach and primary recruiter. Recruiting NCAA caliber student athletes has immersed him into the junior and youth hockey world and created a fantastic network to help educate and promote Jr Fuel players.
One aspect of coaching that Coach Gratz takes most pride in and will benefit our players, is promotion and the future success of his athletes. During the 2015-2016 season, his team led the ECHL in call ups to the AHL with a total of 38 promotions to 9 different teams. During his time with the Bloomington Thunder, his team led the SPHL in player call ups.
Acting as General Managers, Directors of Player Personnel and Head Coaches in the ECHL puts both coaches far ahead of the game at the 18U and 16U AAA level having to recruit and coach their teams for a living. Both coaches have a massive network of junior, college and professional coaches along with agents and advisors that will be key to not only assemble the best Jr Fuel teams to date, but help our players take the next step in their hockey careers.
Both men have coached numerous NHL players and hundreds of NCAA division 1 players. Both coaches worked extensively with NHL teams and player development systems through their affiliates while coaching in the ECHL. They know what it takes to compete at hockey's highest levels.
Both coaches have joined the IYHA staff full time and are working towards building their teams and season plans for 2021-2022. Tryout announcements and season details will be released in the coming weeks.