Janesville forward Ezman makes NCAA DI commitment
February 25, 2021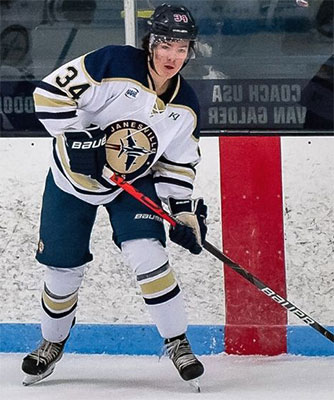 The Janesville Jets, proud members of the North American Hockey League (NAHL), are pleased to announce that forward Jaxson Ezman has committed to play NCAA Division I hockey for the Princeton University Tigers of the Eastern College Athletic Conference.
"Playing NCAA Division I hockey has been a dream of mine for as long as I can remember. So committing to take that next step toward achieving this was obviously a huge milestone," Ezman said. "It's great to see a group that is so invested in success as a team be rewarded with so many personal accomplishments as well."
Ezman, from Middleton, Wis. is currently in his first NAHL season with the Jets and has tallied five goals and six assists in 18 games.
Prior to playing in the NAHL, Ezman played in the NAPHL for three seasons with the Madison Capitols 16U and 18U teams. He also spent time with the Janesville Jets 18U team. In 45 career NAPHL games, Ezman recorded 26 points.
The Jets have now secured three Division I commitments in just one week, and seven total on the season.
While Ezman's adds to a growing list for the 2020-21 slate, it is unique. His commitment to Princeton is the first to an Ivy League school for Janesville since the 2016-17 season, when goaltender Derek Schaedig committed to Harvard, and he is the first-ever Janesville player to choose Princeton.
"We are beyond excited and proud of Jaxson with his recent commitment to Princeton. Jaxson is one of the most coachable, team-first players I have had the pleasure to coach. He has a great stride, an extremely high hockey IQ, and a relentless compete level that is infectious within our team," head coach Parker Burgess said. "Princeton has a great hockey program with a thoughtful staff and the education is second-to-none. The Tigers will be beyond pleased with the player and person they get when Jaxson gets to campus. As an organization, we are thrilled for Jaxson and the Ezman family."
Ezman joins five Jets alumni in going the Ivy League route: Derek Schaedig (2016-17, Harvard), Michael Maloney (2015-17, Brown), Shane Sellar (2015-16, Dartmouth), Alec McCrea (2011-12, Cornell) and Jake Horton (2010-12, Harvard).
The Tigers program is one of the oldest in the country, dating all the way back to 1899. Princeton is the alma mater of hockey great Hobey Baker, who played for the Tigers from 1911-1914. Princeton now plays all of its home games in an arena named after Baker, and college hockey's annual Hobey Baker Award is given to the nation's top player that season.
Despite its long history, Princeton has had its most success in recent years. The Tigers won the ECAC Tournament crown in 1998, 2008 and 2018, and also made the NCAA Tournament in those years, along with 2009.
An Ivy League research institution founded in 1746, Princeton University ranked as the No. 1 national university according to the U.S. News and World Report for 2021.
"I chose Princeton for a number of reasons. To start, the coaching staff really valued the details and habits that are a part of my game. This gave me a lot of confidence that it would be a good fit for me. Having a good relationship with the coaches is very important as it allows me to develop into the best player I can be and hopefully continue on to pro hockey," Ezman said. "And of course away from the rink, looking at the academic side of things, Princeton does a great job at setting its students up to be successful."
Ezman is set to get in plenty more games in Janesville before joining the Tigers in the 2022-23 season, and he plans to sharpen his skills on the ice as well as in the locker room with the time he has left.
"This sport has taken me all over and I am very fortunate to have found a home in Janesville. I believe that just as there is a lot to learn on the ice before college, there is just as much to find off the ice. Some of my biggest teaching points in my junior career so far have come in off-ice situations," Ezman said. As I eventually transfer to college hockey, I would like to bring all the leadership skills and knowledge of being a good teammate with me."
Click here for an updated NAHL to NCAA commitment list